Recipe inspired by the book "Anna Karenina" by Leo Tolstoy
"He looked at her as a man looks at a faded flower he has gathered, with difficulty recognizing in it the beauty for which he picked and ruined it. And in spite of this he felt that then, when his love was stronger, he could, if he had greatly wished it, have torn that love out of his heart; but now when as at that moment it seemed to him he felt no love for her, he knew that what bound him to her could not be broken."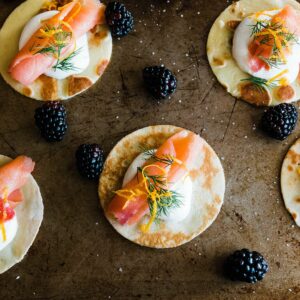 Blini
Ingredients
2

cups

whole milk

3

eggs

1 ⅓

cup

all-purpose flour

1

tbsp

sugar

1

tsp

salt

3

tbsp

vegetable oil

2

tbsp

butter
Instructions
Heat a small non-stick skillet on medium-low heat.

In a medium bowl, mix milk and eggs. Add flour, sugar, salt, and oil; mix well. The batter will be like a thin pancake batter.

Add a bit of butter into a pre-heated pan, swirl to coat, then add one ladle full of batter to the pan.

Swirl batter around the pan until it covers the entire bottom of the pan by a thin layer and cook for 2 minutes or until light golden brown on the bottom.

Flip and cook for 1-2 minutes.

Flip out finished blini and allow the pan to reheat for 30 seconds then repeat steps 4-6 until batter is gone.

Top with either sweet or savory toppings (ideas below)!

Recipe Notes
Topping Suggestions: - Creme fraiche or sour cream, smoked salmon, chopped fresh dill - Smear of peanut butter or fresh tahini and raspberry jam - Caviar, sour cream, and chives - Smear of dulce de leche, sliced banana, cinnamon