Recipe inspired by the book "Le Petit Prince" by Antoine de Saint-Exupéry
"You're beautiful, but you're empty…One couldn't die for you. Of course, an ordinary passerby would think my rose looked just like you. But my rose, all on her own, is more important than all of you together, since she's the one I've watered. Since she's the one I put under glass, since she's the one I sheltered behind the screen. Since she's the one for whom I killed the caterpillars (except the two or three butterflies). Since she's the one I listened to when she complained, or when she boasted, or even sometimes when she said nothing at all. Since she's my rose."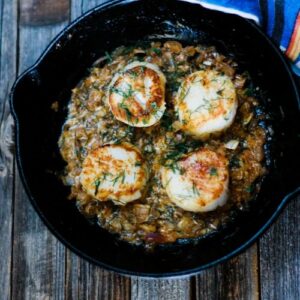 Scallops Provencal
Ingredients
8-10

large sea scallops

fresh or thawed from frozen

½

tsp

kosher salt

½

c

all-purpose flour

3

tbsp

butter

softened

1

tbsp

olive oil

1

large shallot

diced fine

2

tsp

fresh fennel fronds

⅓

c

dry white wine

⅓

c

half and half

1

lemon

quartered
Instructions
Pat the scallops dry with a paper towel and sprinkle the salt over the scallops. Dredge the scallops in the flour, but try to get as light a coat as possible and set to the side on a dry paper towel.

In a medium cast iron or sauté pan, heat the butter and olive oil on medium for 1-2 minutes or until the butter and olive oil simmer but don't smoke.

Add the scallops to the pan one at a time clockwise into the pan then 2 in the middle and cook for 3 minutes on side one then flip all of them in the same order they were added to the pan and cook for another 1-2 minutes (until opaque but still a little squishy when poked).

Remove scallops to a plate to rest, then keeping the heat on medium add the diced shallot and saute for 2-3 minutes.

Add the white wine and scrape the bottom of the pan for any stuck on brown bits to come up and cook for 3 minutes; then add the half and half and fennel and cook for another 5 minutes until it reduces by half.

Plate the scallops and add the sauce to the top and garnish with the remaining fennel and a lemon wedge.