Recipe inspired by the book "Life of Pi" by Yann Martel
"I challenge anyone to understand Islam, its spirit, and not to love it. It is a beautiful religion of brotherhood and devotion."
" The mosque was truly an open construction, to God and to breeze. We sat cross-legged listening to the imam until the time came to pray. Then the random pattern of sitters disappeared as we stood and arranged ourselves shoulder to shoulder in rows, every space ahead being filled by someone from behind until every line was solid and we were row after row of worshippers."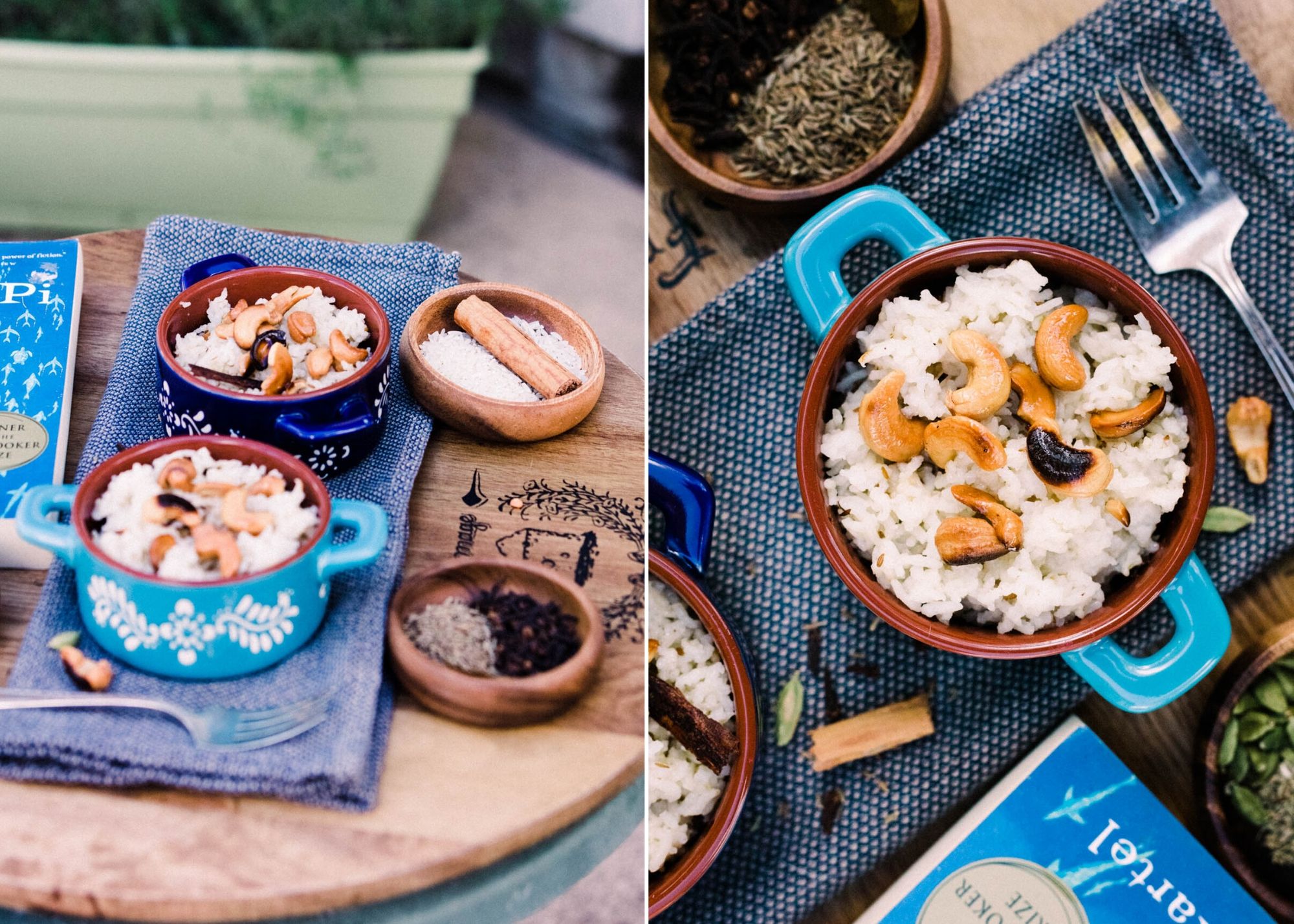 "It felt good to bring my forehead to the ground. Immediately it felt like a deeply religious contact."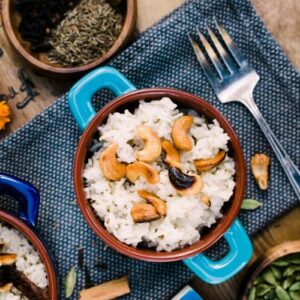 Instant Pot Jeera Rice
Ingredients
2

cup

basmati rice

1

tbsp

vegetable oil

5

pods

star anise (or 1/2 tsp anise seed)

8

cardamom pods

2

2 inch

cinnamon sticks

10

cloves

1

t

cumin seed

2

bay leaves

1 1/2

tsp

salt

2

cups

water

1/2

cup

cashews
Instructions
In a fine mesh strainer, rinse the rice in cold water for about 30 seconds.

Put the strainer full of rice in a medium bowl and fill the bowl until the rice is covered. Soak for about 15 minutes.

While rice is soaking, heat 1/2 of the oil in a pan on medium heat for about 1-2 minutes and add the anise, cardamom, cinnamon, cloves, and cumin seeds. You can also do this step in the Instant Pot on 'saute'.

While stirring pretty much constantly, heat the spices until you start to smell them about 5 minutes then turn off the heat.

Take the strainer out of the soaking water, add to the Instant Pot and dump the soaking water.

Add all of the ingredients to the pressure cooker except the last bit of oil and the cashews and then set you Instant Pot to 4 minutes at high pressure.

Allow to cook and then once complete, allow to cool for 10 minutes with out releasing the pressure.

While the rice is cooking, heat the remaining 1/2 tbsp of oil the pan for a minute or so on medium heat then add the cashews toast. Stir for about 2-3 minutes until toasted and then turn off the heat (mine are a bit over toasted in the pictures).

After the 10 minute cool down on the rice, release the pressure and serve with cashews on top.