Recipe inspired by the book "The Amazing Adventures of Kavalier & Clay" by Michael Chabon
"Every universe, our own included, begins in conversation. Every golem in the history of the world, from Rabbi Hanina's delectable goat to the river-clay Frankenstein of Rabbi Judah Loew ben Bezalel, was summoned into existence through language, through murmuring, recital, and kabbalistic chitchat — was, literally, talked into life."
Sammy looked over at Joe, longing for the longing of heartbreak and a depth of emotion he had never felt. Sammy's thoughts drifted sideways slightly while urgently trying to come up with a character for his comic book. The who, what, where, and why, (all of which he desperately needed for his strip) were fading into dreaming of bigger and better things. When these little panels (none of which were yet created) sold he could buy himself and his mother out of the cramped tenement, out of her frightening job as nurse at Bellevue, out of Brooklyn altogether. He would make a name for himself with his own hard work and determination!
Then the small fact hit them both: they needed an actual product to make these fantasies a reality. Sammy nudged Joe and they slouched down the fire escape to the street and started to walk. Faster and faster until they were almost speed walking, as if the quicker the pace the more swiftly the ideas would come. Sammy stopped so suddenly, staring in the window of a Jewish delicatessen. Of course, sustenance is what they needed! No one can think on an empty stomach. He bundled Joe into the fragrant deli and they got small meals with the meager amount Sammy had in his pockets. Sammy and Joe's fare felt indulgent, even though it was only greens tossed with lemon, parsley, and freshly sliced lox with a bagel to split between them. The smoked salmon was luxuriant against the bitter bite of parsley and the tang of lemon; fuel fit for gods. Hopefully, it would call down a muse to aid the cousins to create the ultimate superhero.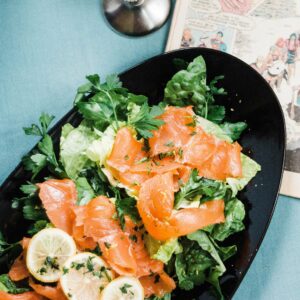 Homemade Lox & Parsley Salad
Ingredients
Cure the salmon
1 ½

lbs

wild caught salmon filet

¼

c

kosher salt

3

tbsp

brown sugar

1

tsp

dried dill

1

tsp

cracked black pepper
Dressing
½

the juice and zest of ½ a lemon

2

tbsp

olive oil

½

tsp

kosher salt

½

tsp

cracked pepper
Salad
6

c

mixture of mix of the following: Endive, romaine, parsley
Instructions
To cure the salmon
Combine salt, sugar, dill, and pepper in a small bowl.

Lay a piece of cling wrap 3 times longer than the filet on a long, smooth surface (like a cookie sheet) and sprinkle a 1/2 of the salt/sugar mix on a third of the cling wrap.

Set the filet on the salt/sugar and then sprinkle the rest on top of the filet.

Wrap tightly in the cling wrap, leaving one edge open to drain.

Place on a plate and store in the refrigerator for 5 days with a weight on it, turning daily and draining the liquid off.

After 5 days, the filet should be opaque and a light coral color. With a very sharp knife, cut into slices as thinly as possible.

Salad
Put together dressing ingredients in a bowl and whisk until combined, about 30 seconds. Toss the salad with the lemon dressing and lay about a third of the shaved lox on top and garnish with lemon zest.