It's hot. Like super hot. Not quite the surface of the sun, like poor California, but Texans know heat.
Hot chiles, hot sidewalks, hot men, wait… I'm getting off-topic. So as a Texan, I know how to keep cool. Hydrate with cold water and cold beer. Parking in the shade is better than parking close to the store. Know where the closest air conditioner is to you, always. Sometimes, just sometimes it to damn hot to drink coffee. No, I take it back. Never to hot for coffee. But just sometimes you need to cool that coffee down a bit. Plus, this is no time to be turning on your oven because then your whole house is literally baking.
That's why Vanilla Bean & Cardamom No-Churn Ice Cream is the bomb dot com and everyone should be making all of the ice cream right now. It tastes like gelato and a chai latte got together and had a little to much fun, if you know what I mean *wink, wink, nudge, nudge. But what is this I hear, "Ice cream is too hard to make" or "I can't make it because I don't have a churn". That's the heat talking, my friends! You can totally make ice cream! Ask Mica, my photographing fiend of a friend and partner in crime on this blog. She didn't have any idea how to make ice cream (or what a churn was). She has now made this recipe three times in a week and a half! She says "it's for the pictures", but somehow I am skeptical
Also, you can turn this amazing frozen treat into a fancy-schmancy Italian dessert in literally 1 minute. Have you ever heard of affogato? It's an espresso shot poured over gelato. That's it. You can impress your friends and confuse your enemies by serving this ice cream you made yourself with a shot of espresso or strong coffee over it and call it a Chai Affogato! Look at how elegant and worldly you are, with your ten dollar words and fancy recipes.
Just trust me on this one. You can thank me with gift cards. Keep cool!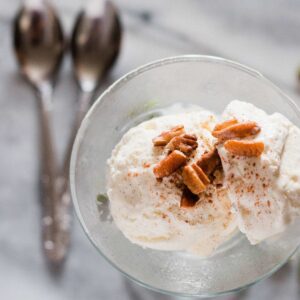 Vanilla & Cardamom Ice Cream
Ingredients
Ice Cream Mix
1

14-oz

Can Sweetened Condensed Milk

1

Vanilla Bean

2

Pods Cardamom Seeded shaken out of the pod and crushed

1

tsp

Cinnamon
Whipped Cream
2

cups

heavy cream, cold

1

tbsp

vanilla

4

tbsp

sugar
Instructions
Ice Cream Mix
In a medium pot, mix condensed milk, vanilla bean, cardamom and cinnamon together for 5 minutes. Pour into a medium bowl and set aside. You don't want to bring it to a boil, just enough heat to bring the flavor out.
Whipped Cream
Place a metal mixing bowl and metal whisk into the freezer for 10 to 15 minutes.

Place the sugar & vanilla into the mixing bowl and add the whipping cream.

Whisk just until the cream reaches stiff peaks. Do not try to whip this by hand unless you missed arm day at the gym.
Mix Together
Once the whipped cream is done, scoop a big spoonful of the whipped cream into the bowl with the condensed milk, vanilla, cardamom, and cinnamon mix. Stir together, and mix together. This lightens the condensed milk and makes it easier to fold into the rest of the whipped cream.

Transfer the rest of the whipped cream to the bowl with the condensed milk. Gently begin folding the whipped cream into the condensed milk. At first, it will look very lumpy. As you continue to fold, the mixture will smooth out and become soft and silky. Stop when you see just a few small lumps here and there — be careful not to deflate the mixture too much or over-mix.

Pour into air tight container (not saying you smell, but your freezer could be a little funky and if it's not air tight your ice cream could end up tasting weird) Freeze for at least 6 hours. Done. BOOM!