My Crockpot is cool.
Beef Roast with Vegetables is the greatest comfort food, all in one pot.
At heart, I believe that I, a 31-year-old goober from Texas with a bad habit of singing inappropriate songs in the workplace, am actually an 87-year-old retiree with a bad habit of drinking herbal tea and watching Murder She Wrote with a blanket on my knees.
I've always been fascinated by "antique" things. First of all, who would want brand new furniture in their house when they could have something someone else already loved and doesn't want?! It's madness to buy new furniture, in my humble opinion. And books!! Everyone (and I'm using everyone loosely, it really just means me and a few other wack-a-doodles I've found in the humor section of Pinterest) loves old books. There is nothing like the nostalgia of finding a slightly worn, older copy of Charlotte's Web by E.B. White with the exact hand-drawn cover with Fern and Wilbur looking wistful (or concerned, I never could tell) at Charlotte climbing down a strand of web.
But back to my original hypothesis: my Crockpot is cool. I use it mostly for beans and roasts and other long-cooking things that I want my house to smell like for seventeen hours. However, I also like to use it for full, one-pot meals like this one as well. It has this magical way of taking long cooking, hard, (sometimes) healthy, ingredients into soft, unctuous, falling-off-the-bone food that reminds you of your grandma. Beef Roast with Vegetables is the greatest comfort food, all in one pot. This is your grandma's traditional Crock-Pot meal,  it FEELS like she would approve. Beef Roast with Vegetables is the greatest comfort food, all in one pot. And this recipe is easy as pie if pie were easy to make.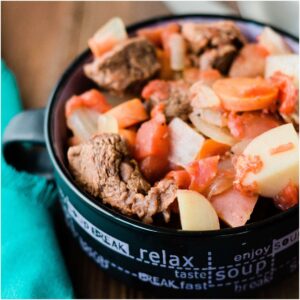 Roast Beef with Vegetables
Ingredients
2

lbs

Boneless Beef Chuck

1

lb

Potatoes. Dice into 1 inch cubes

(sweet, red, russet, whatever you have lying around)

1

large Onion

Quartered

4

med

Carrots Cut into 1 inch chunks

4

Garlic cloves Smashed without the skins

1

32 oz

Can of diced tomatoes

2

tbsp

Worcestershire sauce

1

tbsp

Salt

1

tbsp

Black Pepper

1

Cup

Water

2

Cups

Liquid (water, broth, wine, beer, tomato juice)
Instructions
Throw the potatoes, onions, carrots, and garlic into the crock pot. Now the beef in the pot. Now the rest of the ingredients. Cook for 6 hours on high or 8 on low (you have about an hour of wiggle room with the cook time). IT'S THAT EASY.