Recipe inspired by the play "A Raisin in the Sun" by Lorraine Hansberry
Never be afraid to sit a while and think.
Lorraine sat a while and thought. Thank Jesus this first plate of eggs and sausage arrived, she was about to eat the paper she was writing on! In between mouthfuls, the story beneath her fingertips was beginning to take shape. Remembering her father and how hard he worked to try to not only provide the essentials of food, shelter and care but to also provide his children with a more just and accepting world. Silky Scrambled Eggs.
She worried about him because of his "failure" to change the rights and freedoms of the American black man had sent him desolated, mind and soul, to Mexico. She worried that even with all of the effort through the "correct" channels of the Justice System, the changes for her and her compatriots were so minuscule.  She worried about her own course in life, and if she would get to share the "American Dream". She worried whether or not she would continue to bear the pressure, sagging under the heavy load, or would she explode?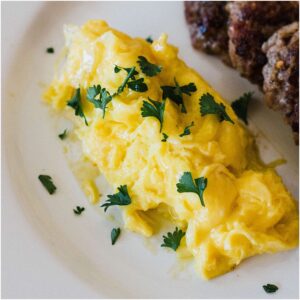 Silky Smooth Scrambled Eggs
Ingredients
3

eggs

plus one yolk

1

tbsp

water

¼

tsp

cornstarch

1

tsp

butter

¼

tsp

kosher salt

¼

tsp

fresh ground pepper
Instructions
In the meantime, crack eggs into a bowl and whisk the rest of the ingredients in with a fork for about 30 seconds, until everything is mixed and the mixture slightly lightens.

Add the butter to the pan, allow it to melt then swirl the pan to coat the bottom and a little of the sides.

Pour in the egg mixture then wait 30 seconds.

Using a spatula, slowly begin stirring and folding the eggs on top of themselves for about a minute to a minute and a half.

Plate it with some of our delicious sausage & breakfast is ready.