Recipe inpsired by the book "Like Water for Chocolate" by Laura Esquivel
"Tita's blood and roses from Pedro proved quite an explosive combination"
As Tita snapped the necks and carefully cleaned the insides of each quail, she felt more and more wicked. The roses Pedro had given her in congratulations (and perhaps forbidden love) shad sharp barbs that pierced her hands. Droplets of her blood mingled with the crimson petals, absorbing and adding to the fire of her thoughts. Embers were growing, churning inside her, stronger and more urgent then she'd ever felt before. As Tita cooked alone in her massive ranch kitchen she thought back to memories of Pedro and reveled in the times they spent together. Each memory composed of survival and lust, like a call from ancient times.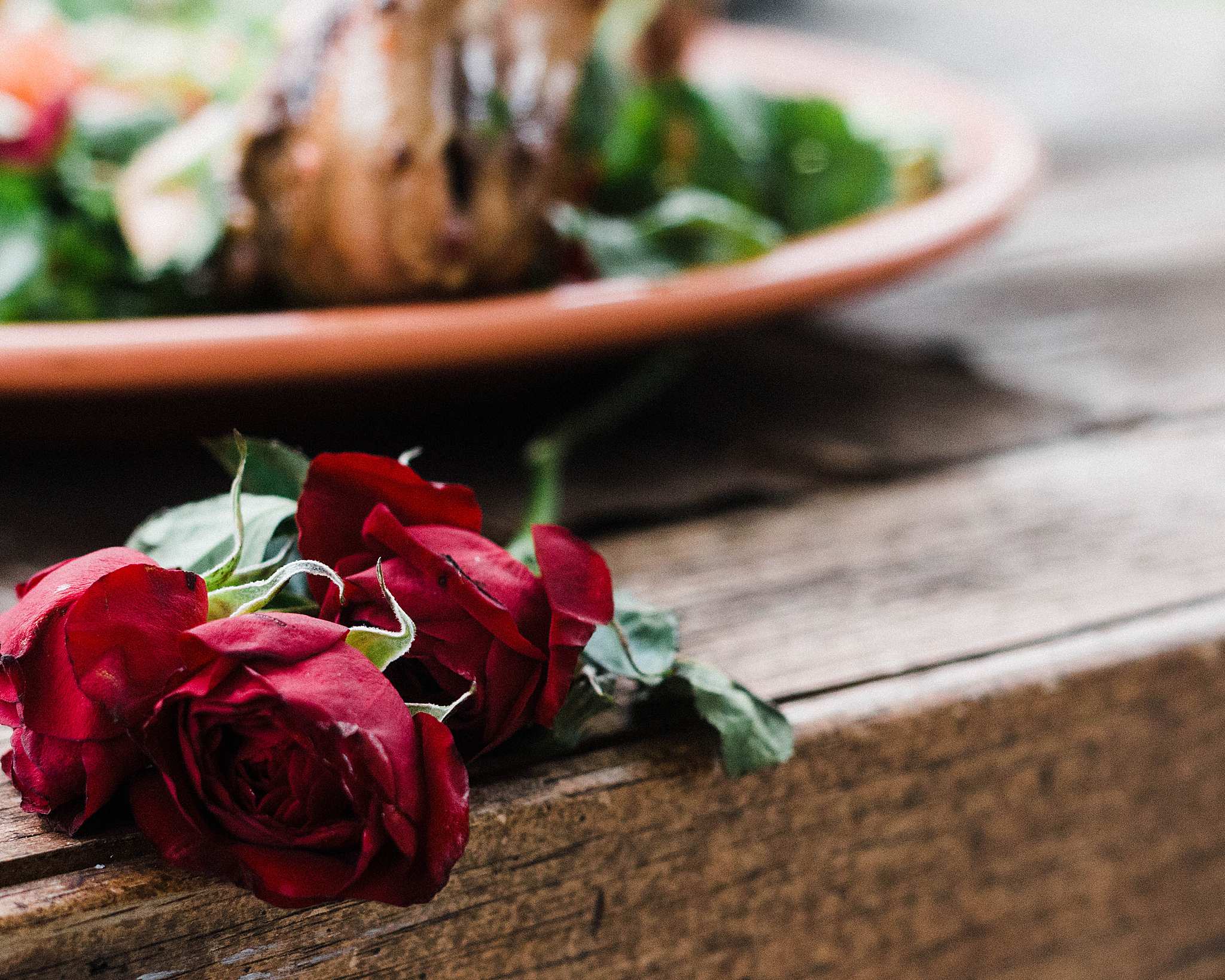 Once the tiny birds were clean, she danced around the kitchen looking for something as strong and sharp as the rose thorns that had pricked her fingers. A wicked idea flew across her mind. In a cupboard under the pantry sat a bottle of mezcal, which they kept at the homestead to distract Pancho Villa's men. Oh and look here! Tita found a Lilliputian jar of smokey, sweet, and most of all, spicy chipotle peppers in adobo. Soon the quail found itself swimming in the sinful combination of temptation and lust.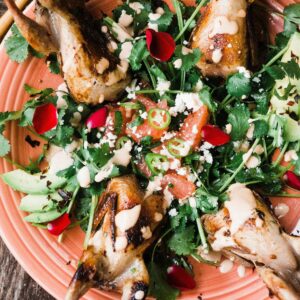 Mezcal Chipotle Quail with Rose Petals
Total Time
2
hours
15
minutes
Ingredients
4

whole quail

3

tbsp

mezcal

2

tbsp

agave

2

tbsp

adobo from a can of chipotle peppers

2

tsp

kosher salt

1

tbsp

vegetable oil (or any neutral flavored oil)

1

lime, quartered

Sprigs of cilantro and a handful of red rose petals
Instructions
Put mezcal, agave, adobo and salt into a gallon sized zip top bag, close and mix thoroughly.

Drop quail into the bag, close and refrigerate for 1-2 hours.

Heat cast iron or other heavy sauce pan on medium low heat for 10 minutes and preheat the oven to 350℉.

Turn heat to medium and add the oil.

Then pull the quail from the marinade and add to hot pan.

Cook for 3-4 minutes then flip and a cook another 3-4 minutes on the other side.

Slide the whole skillet into the oven to finish cooking for 15 minutes or until juices run clear.

Once quail are cooked, plate and allow to rest for 5-10 minutes before eating.

Garnish with fresh lime, cilantro, and rose petals.