Recipe inspired by the book "James and the Giant Peach" by Roald Dahl
"Everybody was feeling happy now. The sun was shining brightly out of a soft blue sky and the day was calm. The giant peach, with the sunlight glinting on its side, was like a massive golden ball sailing upon a silver sea."
James, the Centipede, and the Ladybug were lounging along the top of the Giant Peach, bobbing along in the briny Atlantic. The adventurers were sunning themselves after a rough trip off the peach tree, out of the awful aunts' hill, and bouncing all the way down to the sea. While relaxing on the downy Peach, James's tummy rumbled quite loudly. The Ladybug started around in fright, but soon realized it was only the boy's hunger. "What shall we eat? I'm starved!" said the Ladybug. The trio agreed to head down and ask the Old-Green-Grasshopper if he had brought anything to munch. Down they trooped to see the Old-Green-Grasshopper, down, down the tunnel made entirely of Peach!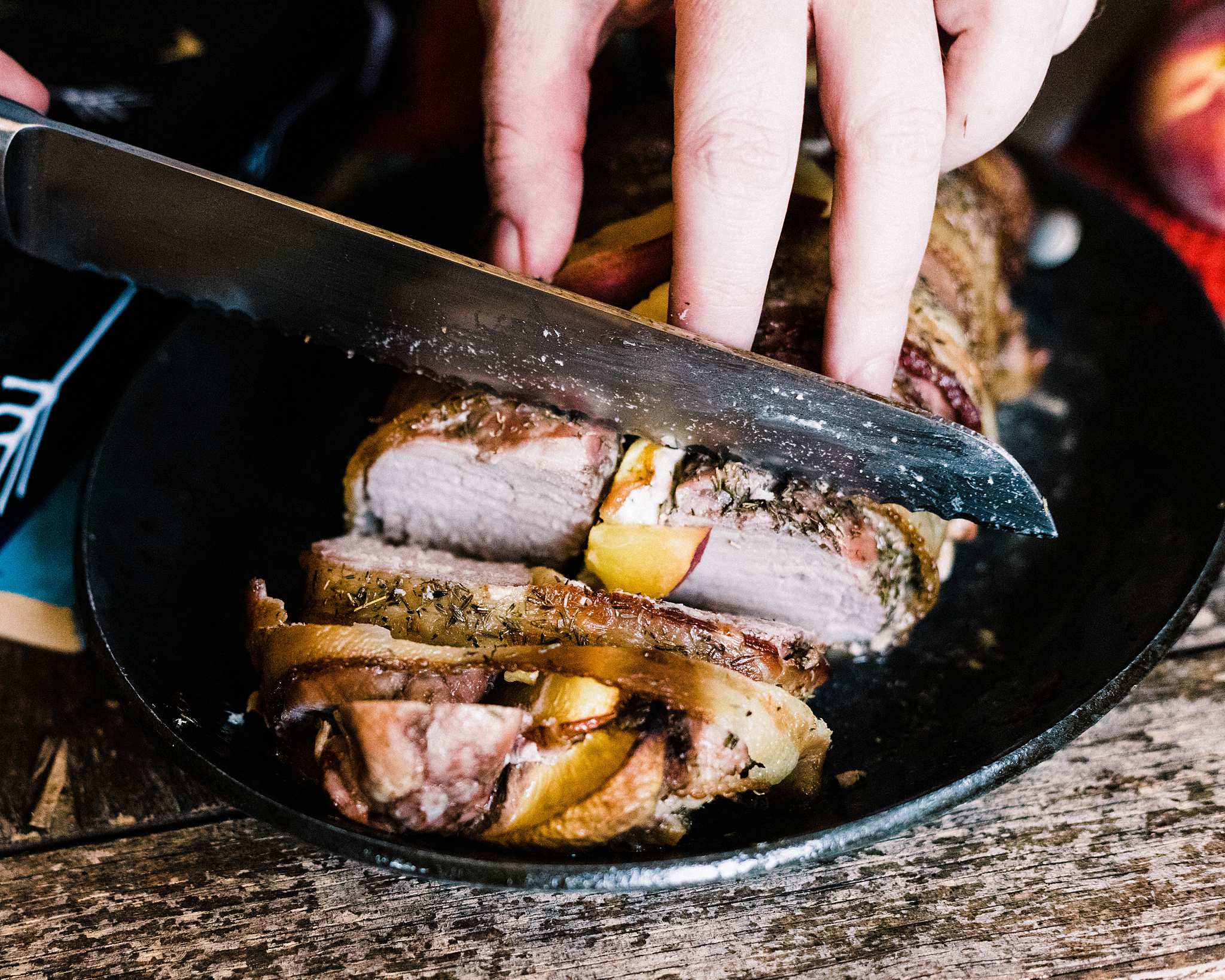 The Old-Green-Grasshopper sighed when he heard the request. He, nor anyone else, had brought any food with them on their voyage. What were they to do? An idea tinkled in James's head, but he didn't say a word. His odious aunts had beaten and maligned him for so long he thought he would never have a good idea. But after going round and round with his fellow voyagers, no one else had any ideas. "What about the p-p-peach?" he stuttered out, expecting someone to screech a dispute. He looked up from his crouch. The insects were all staring, slack-jawed. "Brilliant!" exclaimed the Centipede, "I almost thought of it!"
"That's right. Our whole home is edible. Well reasoned James." said the Old-Green-Grasshopper. And then, in unison, they all went about expanding their small living quarters by munching on the MOST DELICIOUS PEACH!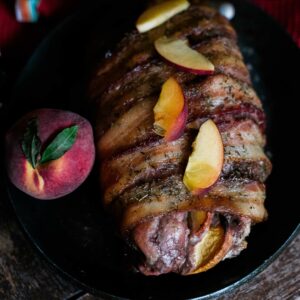 Peach & Goat Cheese Stuffed Pork Loin
Ingredients
2

whole pork tenderloins in between 1-2 lbs

usually come in a package together

2

tsp

salt

1

tsp

fresh cracked pepper

4

oz

chevre (or any creamy goat cheese)

room temperature

1

large

peach

thinly sliced

8

slices

bacon

1

tsp

fresh or dried thyme
Instructions
Rub the pork tenderloins with the salt and pepper.

Lay out the 8 pieces of bacon parallel on a baking sheet or low sided skillet and align the two tenderloins on top of the bacon so they lay fat end to skinny end and are just touching but still open like a book.

Smooth the goat cheese down one side of the tenderloin, sprinkle on the thyme and lay out all but 6 of the peach slices.

Fold the 2 tenderloins together with the cheese and peach filling in the middle then wrap the bacon around to the top of the tenderloins and carefully flip over, so the bacon ends are underneath.

Top with the remaining 6 peach slices and roast at 350℉ for 45-55 minutes or until the pork's internal temperature reads 140℉.

Drain the juices from the pan and let the pork rest for at least 10 minutes.

Slice the pork into 1/2 inch slices, pour over the juices, and serve.