Recipe inspired by the book "The Remembering Day" by Pat Mora
"Bella and Mamá Alma collected their vegetables for dinner. They took them to the small thatch shelter where the family cooked. 'Bella, teach others that when we think about the people we love, they are always with us, even though we can't see them. You are a good teacher. Teach people to plan a remembering day.' "'
Bella woke up on Remembering Day with a heavy heart. Only one year ago Mamá Alma had gone the way of her other ancestors. Bella missed her terribly but she was passionate about fulfilling the promise that she had made to her abuela. "Mamá, do you remember Mamá Alma's favorite thing to eat?", Bella asked her mother while dancing about their home. Smiling slightly, Mamá replied, "Your Mamá Alma loved tamales. There were her favorite to get together with the other abuelas of the village and talk and laugh and roll tamales." Well then, Bella would make tamales!
Bella knew Mamá Alma loved the gourds that grew in the garden, so Bella decided they needed to be included. The pumpkins with there warm orange fruit from the gourd would be perfect filling. It just needed one more thing… Ah! Mamá Alma's best sausage, the sinfully spicy chorizo that gave everything it touch a satisfyingly warm flame color. Bella gathered the ingredients then ran to tell Mamá's friends to come over. Soon the whole village came to come roll a tamale and think of Mamá Alma!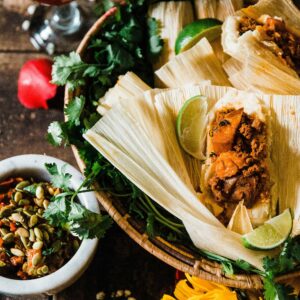 Pumpkin & Chorizo Tamales
Total Time
1
hour
30
minutes
Ingredients
40

corn husks

8

oz

ounces room temperature lard, preferably leaf lard if you can find it

1

tsp

baking powder

2

tsp

kosher salt

3

cups

of masa harina

2

cups

chicken stock, warmed

1 ½

cups

water
For Filling
3

cups

roasted & diced pumpkin (about ½ inch cubes)

1

12 oz package chorizo
Instructions
Soak corn husks in warm water for 20-30 minutes.

Mix lard with an electric mixer for one minute on medium, until slightly fluffier.

Add baking powder & salt to lard and mix well.

Add the masa harina and chicken stock in 3 stages each. Mix for 2 minutes to combines thoroughly.

Tamales dough should look like chocolate chip cookie dough, so add the water slowly while mixing on low until the dough looks right, it might be less than 1 1/2 cups.

Roast pumpkin with a little oil and salt in a 400℉ oven for 45-55 minutes, until soft when poked with a knife.

In a medium saucepan, heat the pan on medium heat for 2 minutes then add the chorizo and stir for about 5 minutes, until cooked through then add the roasted pumpkin.

Assemble the tamales. Put 2 T of the masa mix onto a soaked cornhusk and spread with your fingers into husk until it's about a 1/4 inch thick.

Add 2 teaspoons of the filling on top of the masa and roll the sides of the masa up to make a cylinder then fold up the bottom.

When you have 3 tamales, group them together and tie them together with the folded part facing in.

Stand the tamales upright (folded side down) in a large steamer pot fitted with a steamer basket and a lid and bring 2 inches of water to a slight boil.

Steam for 45 minutes to an hour, until the masa pulls away easily from the husk.