Recipe inspired by the book "Like Water for Chocolate" by Laura Esquivel
"Something strange was going on. Tita remembered that Nacha had always said that when people argue while preparing tamales, the tamales won't get cooked. They can be heated day after day and still stay raw, because the tamales are angry. In a case like that, you have to sing to them, which makes them happy, then they'll cook."
Tita had an undeniable urge to escape. To escape from the ancestral ranch which she had always called home, from the confines of her own fevered mind, but most of all, from the tyrannical clutches of her, embittered Mama. She longed to leave this place with Pedro and never return; or perhaps if she had not been cursed by being born a niña. All of these emotions she poured into the corn she was blistering over the fire. The kernels, longing to escape from the enormous heat of fire, burned and threatened to pop, but Tita kept the golden cells just far enough from the heat that they never had the chance to explode. As the the sunshine colored grained charred, so did Tita's mind. She honestly did not know how she did not burst with all of the thoughts and emotions swirling about her like the dried corn silk blown by wind spirits about her feet. Anger rose to the surface of her being, threatening, like the kernels, to erupt from Tita in a maelstrom of malcontent and bitterness. How dare Mama keep her child from love?!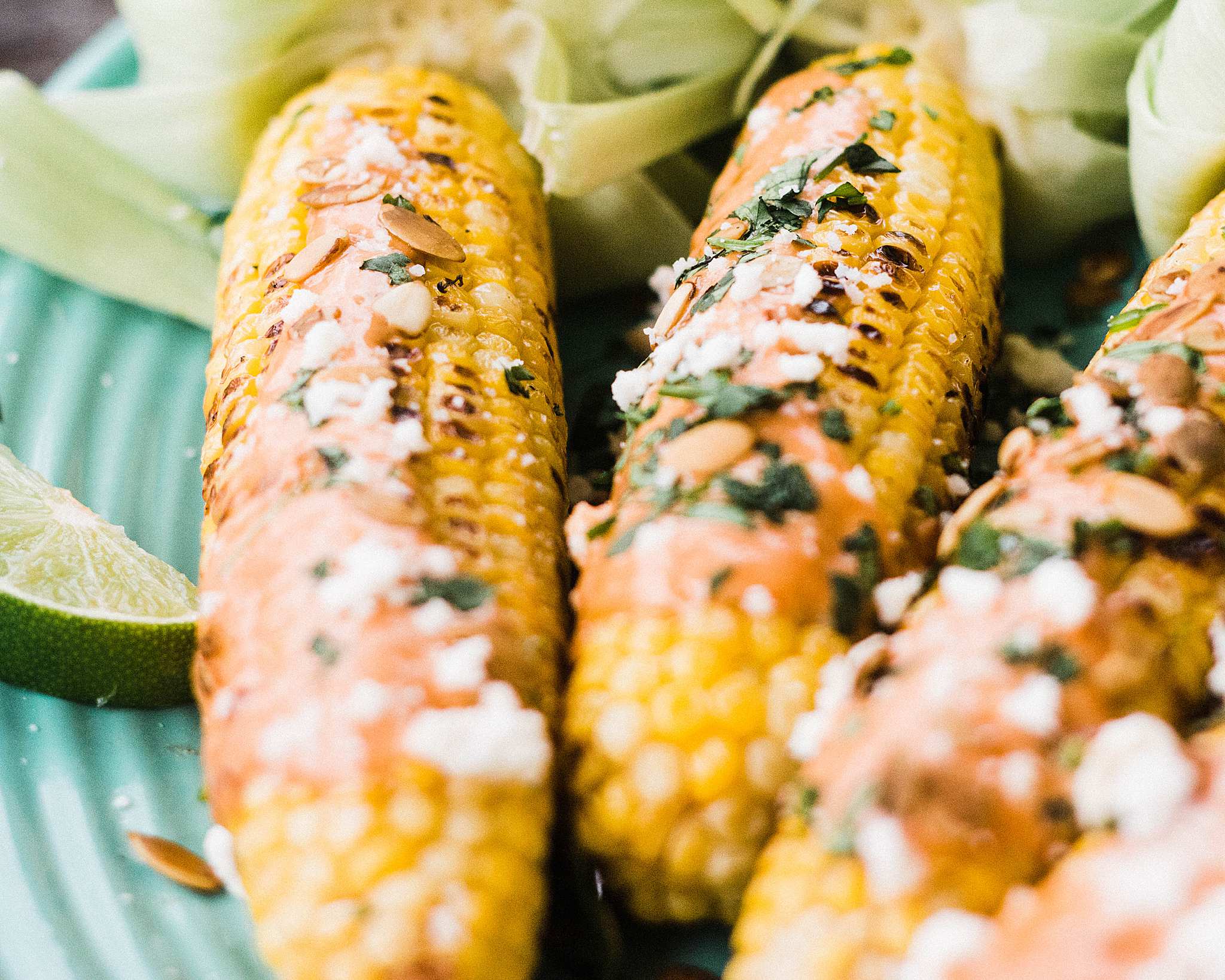 Yet as she was at the height of her fury, Tita removed the blackened cobs from the hearth and smoothed the cream over the whole length. Whether it was the motion of spreading or the salve of the cream on the blistered corn, Tita began to remember more soothing thoughts of her mother. Mama Elena had been iron-strong and held together the ranch and home after her husband had passed. Perhaps Mama deserved to be obeyed. Perhaps, Tita murmured, she could be content with what she had here at the ranch.
Tita sprinkled the crunchy pepitas onto the corn then took a large bite. The anger and the cream, the blackened kernels and the soothing salve mingled within her, leaving what behind a hardened, logical resolve. Tita could and would change her situation.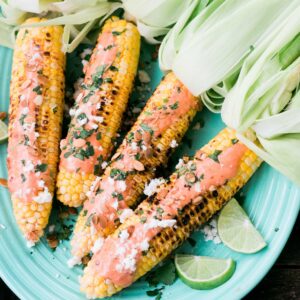 Mexican Street Corn
Ingredients
4

cobs of corn, shucked

3

tbsp

mayonnaise

homemade if possible

1

tbsp

adobo

sauce from the can of chipotle peppers

1

tbsp

kosher salt

¼

cup

seasoned pepitas

¼

cup

cojita cheese

crumbles

1

tbsp

cilantro

roughly chopped
Instructions
Heat grill or cast iron griddle for 15 minutes on medium heat.

Mix mayonnaise and adobo thoroughly in a small bowl and set aside.

Place cobs directly on grill grates (or griddle) and rotate very couple of minutes while the kernels become slightly blackened on all sides, it will take about 20 minutes.

Pull the corn from the heat and liberally apply the chipotle mayo to all sides of the cobs.

For a little extra char, place the corn back on the grill for about a minute per side to blacken the mayo a bit.

Pile cobs on a big plate and sprinkle with the salt, pepitas, crumbled cojita, and cilantro.