I know you have heard of the term 'superfood'. It's everywhere! In restaurants, the grocery store, the bedroom… Well, maybe that's just me and my Dude. The man is a classically trained Cordon Bleu chef and trying to get him to eat vegetables is like pulling teeth. So back to my point, there are some foods out there, just hanging around your supermarket, that are wickedly, amazingly great for your body. Some fight carcinogens (cancer-causing substances) and free radicals, some give the building blocks for the vitamins your body needs (like beta carotene), some have a buttload of fiber to clean out your GI tract (pardon the pun).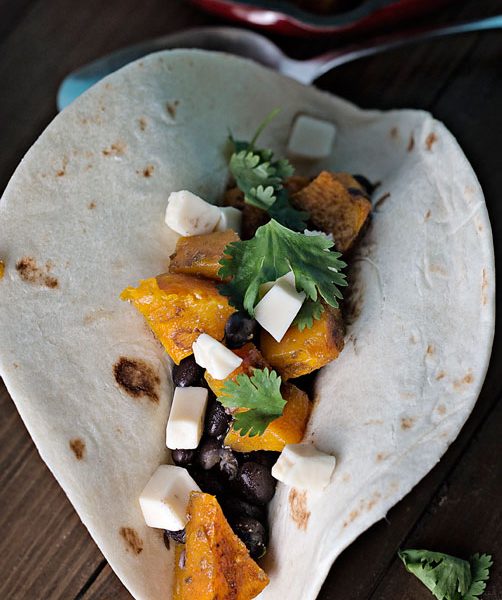 My philosophy on eating for a nutritious life is trying to balance high nutrition, low price, local ingredients, organically farmed, and of course, amazing taste. I try to pack as many of these things into each ingredient I buy at the grocery store. Usually, I can manage a solid 2 or 3 out of 5. Don't judge. I'm not made of money. BUT let me help you out with my knowledge of the 4 years of slaving living in the Family and Consumer Sciences building at my college: there are some foods that are better for you than others.
Here's my list of super foods in YOUR grocery store that won't break the bank:
Citrus fruits (oranges, lemons, limes, clementines)
Green onions
Sweet potatoes and squashes
Tomatoes
Most of your green and leafy veg (spinach, cilantro, parsley, kale, mustard greens. Don't buy iceberg lettuce. Every time you buy iceberg, Jesus shoots a puppy in the foot. Don't be that guy.)
Cabbage family (green and red cabbage, broccoli, cauliflower, Brussels' sprouts – sidebar: I had no idea Brussels had an 's' on the end of it, weird)
Berries (try to get them in the summer when they are in season and they'll be cheaper and tastier)
Oatmeal
Sardines and anchovies (Mica, don't you turn your nose up at me! They are cheap, good for you, sustainable, and can be tasty. I'll put a recipe up soon. Here's some ideas in the meantime.)
Peanuts and seeds (but try to stay away from salted, fried, or candied legumes and seeds, it kind of defeats the purpose)
Beans and lentils (they all have their own nutrition and flavors, so mix and match!)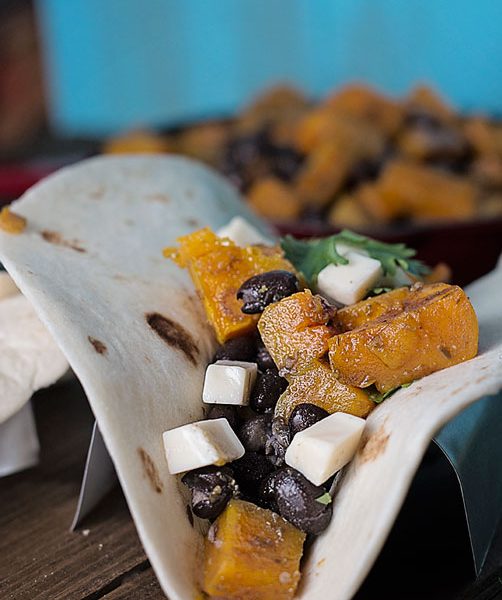 One of the reasons I love these Autumn Spiced Butternut Squash & Black Bean Tacos is because they have not one, but two (or three or four or five, depending on how you load up your taco) super foods while still being a delicious taco. And you can get your veg-avoidant husbands, wives, puppies, children, and beings from outer space to eat veggies because everyone loves tacos. EVERYONE.
1 small or medium butternut squash (or acorn squash or pumpkin)(about 3 cups) washed and cubed
2 tbsp Vegetable Oil
½ tsp Cinnamon
½ tsp cumin
½ tsp cayenne pepper
1 tbsp Kosher Salt
1 can black beans washed and drained
½ cup pumpkin seeds (toast them for funzies)
1 lime cut into wedges
2 tbsp cilantro roughly chopped
2 tbsp queso fresco (you could also use shredded smoked gouda)
10 of your favorite tortillas warmed up
Preheat your oven to 425′.
In a big ass bowl, toss the squash cubes, oil, salt, and spices with your hands because it's squishy and fun.
Pour the mess of squash on a baking sheet or 2 and stick in the hot oven.
Roast for 45 minutes or until they are a little brownish and you can poke them with a fork and they give up easily.
While that's baking, throw the beans into the spicy oily bowl and toss to lightly coat the beans.
For the last 10 minutes, throw the beans on another cookie sheet and put that in there to roast too.
Pull the beans and squash from the oven and put into pretty bowls and onto the table, squeezing a little lime onto the beans.
Put the tortillas (warm, of course), pumpkin seeds, lime wedges, cilantro, and cheese in tiny pretty bowls on the table and let everybody dig in, preferably al fresco!
I love tacos. Also, you will have leftovers so add more tortillas as necessary.