[vc_row][vc_column][vc_column_text]
Lorraine Hansberry Act 1 – Homemade Breakfast Sausage Patties
Lorraine sits in a cracked vinyl diner booth, without thinking chewing a pencil end. The smell of homemade breakfast sausage patties wafted through the diner air. Her stomach growled; a painful reminder of hunger. She stares out into the well-used but clean street while black men walked to work, seeing nothing. I guess you could call it daydreaming, but really there was little dreaming taking place. It was more a look of questioning, "How can this experience in my life make a difference? How can I make this real for them?" She struggled, putting the pencil to notepad, "build something real".[/vc_column_text][vc_empty_space height="25px"][vc_single_image image="625″ img_size="500×700″ alignment="center"][vc_empty_space height="25px"][vc_column_text]
"Please let that be mine…" Lorraine, almost subconsciously, thought as a woman with some meat on her bones carried a heavy tray on her shoulders while leaving the kitchen. So close! The table next to her scored the tray's load.
[/vc_column_text][vc_empty_space height="25px"][vc_single_image image="625″ img_size="500×700″ alignment="center"][vc_empty_space height="25px"][vc_column_text]
She already had enough cups of coffee to kill a horse, but it's not the same as a nice stack of sweet potato pancakes or savory breakfast sausage. Mmm… she could smell them from here. Around and around in her mind were Langston's poems chased by scrambled eggs. Man alive, she was hungry!
[/vc_column_text][/vc_column][/vc_row][vc_row][vc_column][vc_empty_space][vc_separator][vc_empty_space][vc_column_text]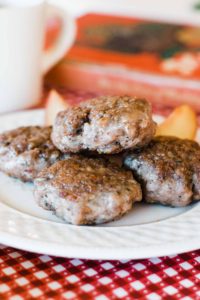 Ingredients
½ c Coffee Grounds
1¼ t Kosher Salt
½ t Baking Soda
1 lb Ground pork 20% fat
1¼ T Dried sage
¾ T Red Pepper Flakes
Instructions
Mix coffee, salt, baking powder, and pork lightly and let sit for 10 minutes.
Mix sage and red pepper flake into the pork mixture for about a minute then chill in fridge for at least 30 minutes.
Heat a pan on medium heat for 2 minutes to get pan hot.
Form patties about 2 inches in diameter, add to pan and cook for 3-4 minutes per side.
Allow to cool for a couple of minutes and enjoy!
[/vc_column_text][vc_message message_box_color="mulled_wine" icon_fontawesome="fa fa-envira"]This recipe and story was inspired by "A Raisin In The Sun" by Lorraine Hansbury. Buy the book 
here
![/vc_message][/vc_column][/vc_row][vc_row][vc_column][vc_column_text]
[/vc_column_text][/vc_column][/vc_row]