Recipe inspired by the book "The Mysterious Affair at Styles" by Agatha Christie
It is a curious thought, but it is only when you see people looking ridiculous that you realize just how much you love them.
Agatha Chrisite's wise words of wisdom are applicable even when referring to an everyday vegetable. Brussels sprouts are a wondrous vegetable. They resemble mini-cabbages but are so versatile in the ways they can be prepared. They may look weird and they may smell weird but when you transform them with other ingredients you truly realize how much you love them. The most common ingredient to enhance the brussels sprouts flavor is pork: bacon, sausage, prosciutto, pancetta. This in itself is quite curious. Bacon. This magical treat enhances the flavor yet unfortunately decreases the health benefits of the brussels sprouts…. but all the same, it's easy to devour them for days.
Never fear, if you're insane and don't want to add bacon to your brussels sprout there are other recipes that you can easily fall in love with, no matter how ridiculous the recipe may be.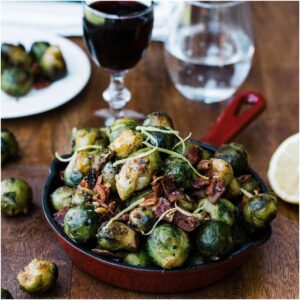 Roasted Brussels Sprouts with Bacon
Ingredients
6

slices bacon cut into ½ inch pieces

1

16 oz

bag Brussels Sprouts frozen

1

tbsp

garlic minced, about 3 cloves

1

tsp

Balsamic vinegar

1

tsp

Kosher Salt to taste

1

tsp

fresh ground pepper
Instructions
Preheat oven to 400°F. Put the bag of brussels sprouts into the microwave for 4 minutes with a couple of holes poked in the bag.

Saute bacon in cast iron pan then pull the pieces out of the pan.

Place brussels sprouts in a cast-iron frying pan (or a roasting pan, but a cast-iron frying pan will work great for this recipe). Toss in the garlic.

Toss with bacon grease so that the sprouts are well coated. Sprinkle generously with salt (at least a half teaspoon) and a few turns of black pepper.

Put brussels sprouts in the oven on the top rack, cook for 10 minutes, then stir so that the sprouts get coated with the oil in the pan. Cook for another 10 minutes.

Sprinkle with cooked bacon bits & balsamic vinegar