Strawberry and Cucumber Salad
Let me tell you about this Strawberry and Cucumber Salad. As you can see from the video, it's fabulous. And easy. And HEALTHY. It is July in Austin and it is swelteringly hot right now. Thanks to El Niño it's also been uncharacteristically humid. Don't get me wrong, I love the rain (fun fact: every Texan must say that after they complain about rainy weather lest the Weather Gods never let it rain again), but it doesn't put me in the mood for my usual go-to meals: roast chicken, enchiladas, BBQ, etc. These all involve either me leaving my house (where I am forced to wear pants), using the oven (did I mention that it was roasting here?), or are time-consuming and/or labor-intensive. Cooking and food are my passions, but sometimes I am just plain lazy or tired from work. I'm sure none of you have ever felt like that *wink, wink*. This dish is perfect for that daysI also love cutting the strawberries into a heart like in the video for fancy parties (in my head that last phrase is always in a British accent) or baby showers and then leading my friends to believe that I am much classier than I am.
I would like to talk again about seasonality. This salad mainly uses cucumbers and strawberries, which are both at their peak in the summertime. Agricultural products will taste better and have the most nutrients when they are in season. Fact. And if you buy them from somewhere local, that's even better for you and the environment. So in conclusion, make this salad and you will save the world and win at life. Enjoy!
P.S. I have been reading Tinker, Tailor, Soldier, Spy by John le Carré. Dang, that man is the most British thing to ever British. The book is fab, but it is hard to read while drinking wine because I have to pay attention to all the sneaky spies. If you ever want any book recommendations or have some for me I'd love to chat about it. I love books almost as much as I love food (but not as much as I love wine). It's difficult to find people who are as semi-obsessive about them as I am and it's so exhilarating to talk to someone who is as excited as you about something! Here's my Goodreads if you want it.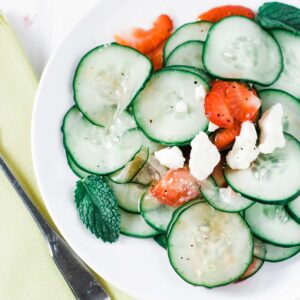 Strawberry & Cucumber Salad
Ingredients
1

tbsp

olive oil

1

tbsp

Red Wine or Rice Wine Vinegar

½

tsp

Red Pepper Flake

1

tbsp

Honey

½

tsp

Kosher Salt

1

cucumber

sliced

6

Strawberries

sliced

½

cup

sweet onion

Very thinly sliced

⅓

cup

Goat Cheese Crumbled
Instructions
Dressing
Whisk oil, vinegar, red pepper, honey and salt.
Salad
Add in sliced cucumber, sweet onion, and strawberries.

Sprinkle crumbled goat cheese on top.