Recipe inspired by the book "The Mysterious Affair at Styles" by Agatha Christie
"Ah, but life is like that! It does not permit you to arrange and order it as you will. It will not permit you to escape emotion, to live by the intellect and by reason! You cannot say, 'I will feel so much and no more.' Life, Mr. Welman, whatever else it is, is not reasonable."
Life is not reasonable is the single thing Poirot inspired to remember at all times. Because no matter how excellent the deduction, if chaos and emotion were counted out his conclusions would be far less accurate. By dessert, he had deduced the true nature of the missing girl to be one of self-motivated kidnapping, and so therefore needed no immediate attention.Cream Puffs with Vanilla Bean Lemon Curd.
So to were these little cream puffs. Reason tells him they are just a simple dough filled with a quick pudding but in that moment, on that street, in that cafe, they were divine. Crisp and luscious, tiny and behemoth, a mass of contradictions. Ah well, some things must not be reasoned out.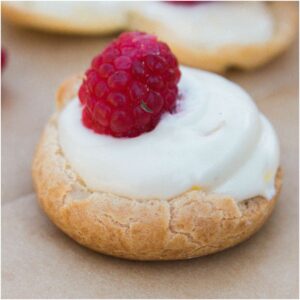 Cream Puffs with Vanilla Lemon Curd
Ingredients
Pâte à Choux Dough
1

cup

Water

½

cup

Unsalted butter (1 stick)

½

tsp

Salt

1 ¼

cup

All-purpose flour

4

large

Eggs
Vanilla Bean Lemon Curd
½

pod Vanilla Bean scraped

5

large Egg yolks

1

cup

sugar

4

large lemons zested and juiced

½

cup Unsalted butter cold and cut into ½ tbsp pieces

2

cups

Freshly whipped cream (optional)

1

cup

Fresh raspberries (optional)
Instructions
Pâte à Choux Dough
Preheat oven to 425℉ and line 2 baking sheets with parchment paper.

In a saucepan on med-high heat, bring water, butter, and salt to a boil.

Turn to medium and add the flour, stirring like mad. Cook and stir for about a minute until the mixture comes together into a smooth ball.

Allow dough ball to cool for about 15 minutes in a mixing bowl on the counter. Pro tip: While you're waiting for it to cool, whip up the lemon curd.

Once coolish to the touch, mix for about a minute to completely cool the dough. Mix in the yolks with a beater one at a time and for about 2 minutes after they are completely incorporated.

Using a generously filled tablespoon cookie scoop, or a level muffin scoop, drop the thick batter onto the prepared baking sheets in 3- to 4-tablespoon mounds. Space the mounds about 3" apart, to allow for expansion.

Bake for 10-12 minutes at 425℉ then lower the temperature to 350℉ and continue to bake for 25-30 minutes.

Allow to cool on a rack for 10ish minutes until cool enough to handle then split them in half to keep steam from being trapped inside.

Once completely cooled, pipe each puff with as much lemon curd and berries as desired. Bon appétit!
Vanilla Bean Lemon Curd
In a double boiler (a metal bowl over a saucepan filled with an inch of simmering water), whisk the yolks and sugar for about 30 seconds until combined and smooth.

Add vanilla bean insides, ⅓ cup of lemon juice, and zest to bowl and whisk until thickened and lightened in color, about 8 minutes.

Take off the heat and stir each piece of butter into mixture, letting one melt before the next is added.

Cover and refrigerate for up to 2 weeks.

To add a bit of ethereal lightness to the curd before piping, fold in freshly whipped cream.