Recipe inspired by the book "The First Wives Club" by Olivia Goldsmith
" 'No one cares that Richard died. No one even visited heem.' He turned to Brenda, 'No one but you, Cara. I weel never forget you for that.' Duarto lifted Brenda's hand and kissed it. Then he held it up to Annie. 'She came to see heem every day. She brought heem fruit, and meatloaf and lasagna.' He wiped his eyes and turned to Brenda. 'You're a terrible cook.' "
Elise had called the next meeting of the First Wives Club to be in her stunning, crowded with antiques, a loft in Midtown. Well, shit. She had had a long night alone in the arms of several Stoli martinis and had just woken up, disoriented and a little edgy. What on earth could she make for her friends that would be here in, oh lordy, thirty minutes? As Elise rummaged around in her fairly bare refrigerator, she felt a creative little thought sneak up on her. She would make a quick tart out her stuffed olives for her martinis! Brilliant.
Annie and Brenda bundled into the loft right on time (Annie being always early and Brenda perpetually late evened everything out without to much undue stress), cold and hungry from the frozen New York walk from the subway station to Elise's apartment, she was shoving the pan back into the oven to finish baking. Ten minutes later when they had chatted and started on mimosas and coffee, out came the tart with a flourish and was served with sliced apples and figs. Both Annie and Brenda oohed and ahhed over the masterpiece while Elise, stirring her coffee with a long teaspoon, smiled enigmatically. As they started on the brunch, they counted off the men that had it coming:  Aaron, Morty, Bill, and the despicable Gil.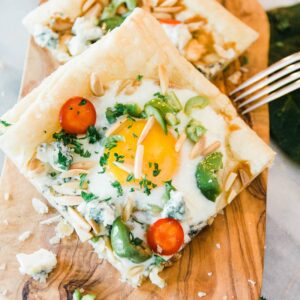 Dirty Martini Tart
Ingredients
1

puff pastry shell

½

c

gorgonzola cheese

½

c

green olives

pitted

¼

c

slivered almonds

2

eggs
Instructions
Pull puff pastry from the freezer and thaw for 10-15 minutes before unfolding.

Lay puff pastry flat on baking sheet lined with parchment paper or a silpat.

Sprinkle gorgonzola, olives, and almonds over pastry leaving 1/2 inch empty around the edge.

Bake for 10 minutes or until the edges are slightly golden.

Pull the pan from the oven half way and then crack the 2 eggs directly onto the crust.

Bake for another 10 minutes until the whites are set. Sit back and enjoy the praise.