Recipe inspired by the book "The Secret Lives of Bees" by Sue Monk Kidd
"I hadn't been out to the hives before, so to start off she gave me a lesson in what she called 'bee yard etiquette'. She reminded me that the world was really one bee yard, and the same rules work fine in both places. Don't be afraid, as no life-loving bee wants to sting you. Still, don't be an idiot; wear long sleeves and pants. Don't swat. Don't even think about swatting. If you feel angry, whistle. Anger agitates while whistling melts a bee's temper. Act like you know what you're doing, even if you don't. Above all, send the bees love. Every little thing wants to be loved."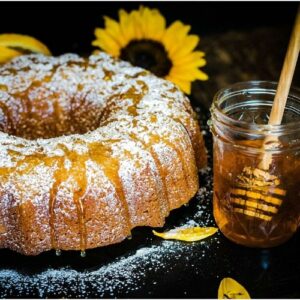 Honey Blossom Orange Cake
Total Time
1
hour
25
minutes
Ingredients
1

tsp

vanilla

1

tbsp

orange zest

1

cup

honey

¾

cup

vegetable oil

3

tbsp

orange marmalade

⅔

cup

sugar

½

tso

salt

2

cup

cake flour

2

tbsp

baking powder
Instructions
Pre-heat oven to 350°. Grease and flour a bundt pan.

Combine the vanilla, zest, honey, marmalade, oil, eggs, sugar, and salt in your stand mixer with the whisk on medium attachment for about a minute.


Turn the mixer to low and slowly add the flour and baking powder into the wet ingredients a quarter cup at a time until completely incorporated then beat on medium for 2 minutes.


Pour cake batter into the bundt pan and bake for 35 to 40 minutes or until a toothpick inserted into the center comes out clean.

Let stand in the pan for 20 minutes; remove cake from pan to rack. Cool completely, about 1 hour then sprinkle with powdered sugar and glaze.