Recipe inspired by the book "James and the Giant Peach" by Roald Dahl
"We may see a Creature with forty-nine heads
Who lives in the desolate snow,
And whenever he catches a cold (which he dreads)
He has forty-nine noses to blow.
'We may see the venomous Pink-Spotted Scrunch
Who can chew up a man with one bite.
It likes to eat five of them roasted for lunch
And eighteen for its supper at night.
'We may see a Dragon, and nobody knows
That we won't see a Unicorn there.
We may see a terrible Monster with toes
Growing out of the tufts of his hair.
'We may see the sweet little Biddy-Bright Hen
So playful, so kind and well-bred;
And such beautiful eggs! You just boil them and then
They explode and they blow off your head.
'A Gnu and a Gnocerous surely you'll see
And that gnormous and gnorrible Gnat
Whose sting when it stings you goes in at the knee
And comes out through the top of your hat.
'We may even get lost and be frozen by frost.
We may die in an earthquake or tremor.
Or nastier still, we may even be tossed
On the horns of a furious Dilemma.
'But who cares! Let us go from this horrible hill!
Let us roll! Let us bowl! Let us plunge!
Let's go rolling and bowling and spinning until
We're away from old Spiker and Sponge!"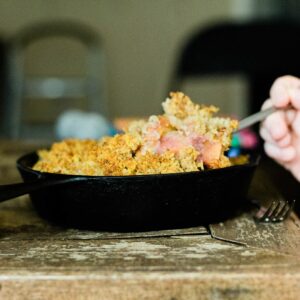 Brandied Peach Cobbler
Total Time
1
hour
30
minutes
Ingredients
1

tbsp

butter

1

cup

brown sugar

2

oz

brandy

1

tsp

vanilla

½

tsp

salt

1 ½

cup

bread crumbs

2

cups

peaches

chopped

½

cup

sugar
Instructions
In a medium saucepan, melt the butter on medium-low heat and cook until the bubble in stops and you have brown butter.

Add the brown sugar, brandy, vanilla, and salt to the brown butter and cook for 2-3 minutes.


Turn off the heat and stir the breadcrumbs into the saucepan and allow to cool slightly.


Mix the peaches and sugar then pour into a non-greased pie dish.


Top with the brown butter bread crumb mixture then bake for 1 hour at 350°F.


Allow cooling for at least 30 minutes then top with caramel or vanilla ice cream.