Recipe inspired by the book "Pippi Longstocking" by Astrid Lingren
"A few feet above the ground the oak divided into two branches and right there was a place just like a little room. Before long all three children were sitting there. Over their heads the oak spread out its crown like a great green roof. "We could drink coffee here," said Pippi. "I'll skip in and make a little."
Tommy and Annika clapped their hands and shouted, "Bravo!"
"In a little while, Pippi had the coffee ready. She had made buns the day before. She came and stood under the oak and began to toss up coffee cups. Tommy and Annika caught them. Only sometimes it was the oak that caught them, and so two cups were broken. Pippi ran in to get new ones. Next, it was the buns' turn, and for a while, the air was full of flying buns. At least they didn't break. At last Pippi climbed up with the coffeepot in one hand. She had cream in a little bottle in her pocket, and sugar in a little box."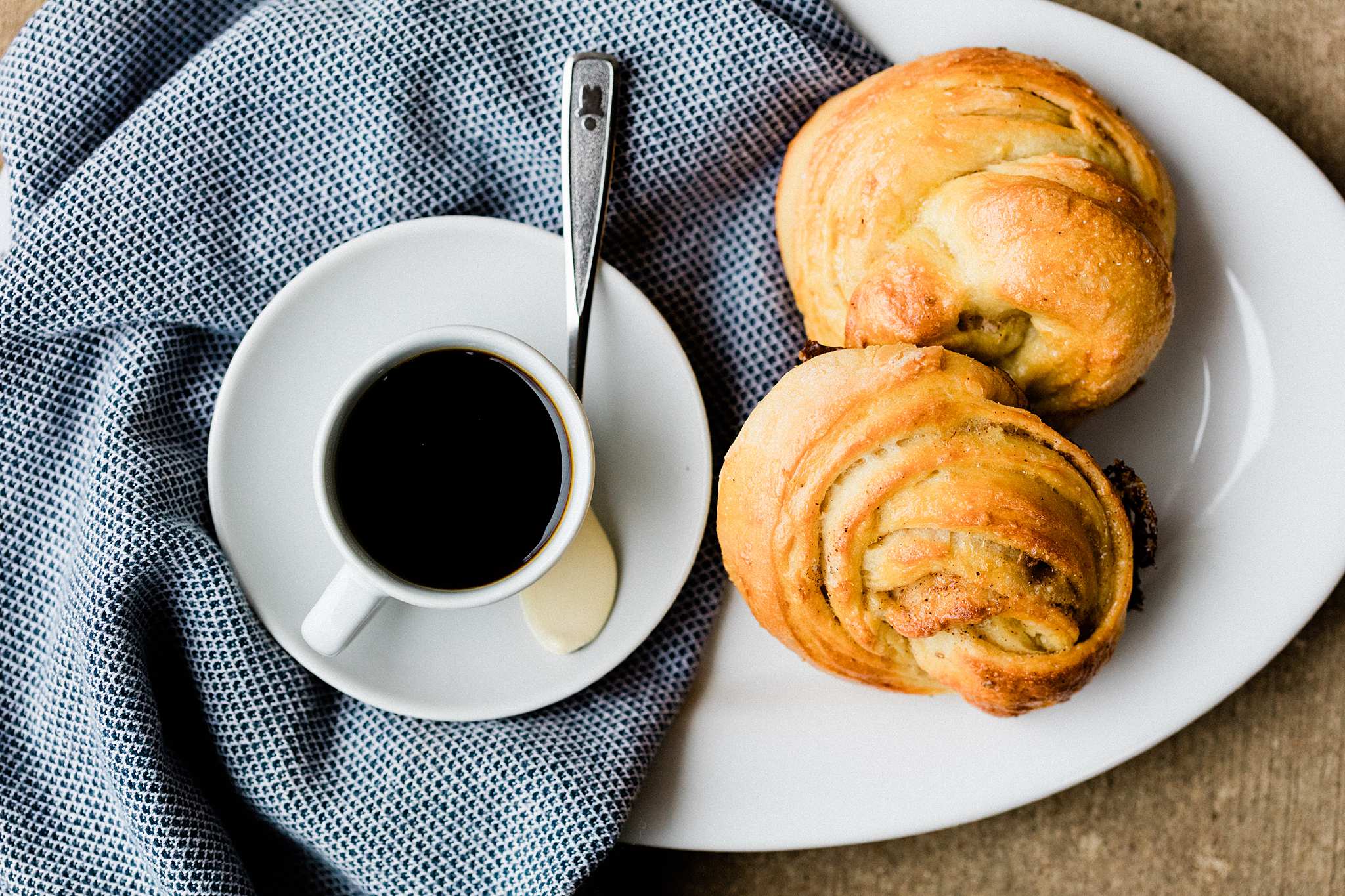 "Tommy and Annika thought coffee had never tasted so good before. They were not allowed to drink it every day — only when they were at a party. And now they were at a party. Annika spilled a little coffee in her lap. First, it was warm and wet, and then it was cold and wet. When they had finished, Pippi threw the cups down on the grass. "I want to see how strong the china they make these days is," she said. Strangely enough, one cup and three saucers held together, and only the spout of the coffeepot broke off. "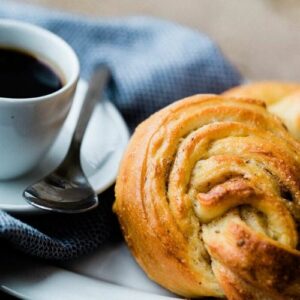 Cardamom Rolls (Kardemummabullar)
Ingredients
Dough
1

t

active dry yeast

1/4

cup

water

slightly warm (about 100°F)

1/2

cups

whole milk

warmed

1/2

cup

melted butter

1 stick

1/3

cup

sugar

1

tsp

table salt

1

Tbsp

molasses

2

eggs

beaten

3

cups

all purpose flour

you may need up to another 1/2 cup of flour
Filling
Zest of 1 lemon

about 1/4 cup

5

pods cardamom

empty seeds from the pods and grind in mortar pestle until it looks like finely ground pepper

2

Tbsp

flour

1/2

cup

brown sugar

hard packed

1/4

cup

butter

room temperature
Topping
2

Tbsp

melted butter

1

Tbsp

sugar
Instructions
In a small cup, combine the yeast and water and allow to bubble for 10 minutes.

In your stand mixer with the paddle attachment or a large bowl, mix the milk, butter, sugar, salt, molasses, and eggs until thoroughly combined. Then add the yeast mixture to the mixer and mix again for about 30 seconds.

Add in the 2 cups of flour in thirds; add 1/3 of the flour, mix for a minute, add another 1/3, mix for a minute, add the last third and mix/knead for 2 minutes.

Grease a large bowl and put the dough in; cover with a kitchen towel and allow to rise in a warm place for 1-2 hours.

Wash out the stand mixer bowl and fit with the whisk attachment. Add all of the filling ingredients to the mixer bowl and mix throughly, about a minute.

Once the dough has risen, roll the dough out into a 10 inch by 20 inch rectangle. Spread the filling mixture on one half of the dough (10"x 10" square).

Fold the side without filling on top of the side with filling and cut into 1 inch strips. Fold the strips in to knot shapes (the video below shows you much better than I could explain here).*

Put finished buns on 2 parchment paper lined baking sheets and allow to rise for another 30 minutes to an hour.

Pre-heat oven to 375°F and brush the tops of the buns with melted butter and sprinkle with sugar.

Bake for 15-20 minutes until golden brown, then pull from the baking sheets and allow to cool for 10 minutes on a wire rack.
Recipe Notes
*knot dough video: https://www.youtube.com/watch?v=eHNFA4hcpok