I've been reading Middlesex by Jeffery Euginedes. Yes, it is awkward and yes, it's is full of odd sexual interludes. I enjoy the crap out of it. It's crazy and disgusting and gender-bent and fabulous. I told you that to get to my inspiration for this post: Greece.
I am very aware that this post is for a taco, but you never can tell where inspiration is going to come from. Reading voraciously is a bad habit of mine and so many of the ideas I have I can't even claim. They come from Lewis Carroll, Richard Adams, and Terry Pratchett. Getting lost in Narnia or Kansas or Istanbul (sidebar: I always thought it was IstaMbul. Well, there goes that A in World Geography I got in 3rd grade) is one of my favorite things to run away to. A large glass of wine doesn't hurt either BUT, I told you that ramble to get to this recipe:
Kale with Bell Peppers and Egg Breakfast Tacos
I was far off near Mt. Olympus in the Grecian hills, completely absorbed in this book, Middlesex. I got hungry. I must have been thinking of Greek flavors, and not been really paying attention, so I created this recipe. And everything is better on a tortilla, hence this taco was born.
Kale with Bell Peppers and Egg Breakfast Tacos are perfect for your vegetarian friends, or a quick weeknight meal. This recipe will be a hit at any party! Welcome to the world, you delicious little creature.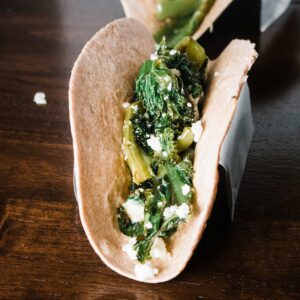 Kale with Bell Peppers and Egg
Ingredients
2

Bell Peppers

(Any color quartered and seeded)

4

cups

Baby Kale or Adult Spinach

(Or a mix of the two)

¼

cup

olive oil

4

Eggs

4

tortillas

(I like whole wheat but you can use whatever you have lying around)

½

cup

Feta or Queso Fresco, crumbled

2

tsp

Kosher Salt

Squeeze of lemon
Instructions
Pre-heat your broiler in the oven to high for 5 minutes. You aren't trying to get the oven hot, but make the coils on the top of the oven uber red. This works like an upside-down the grill to roast the peppers.

Rub a little of the olive oil and sprinkle a little salt on both sides of the peppers and put them skin side up on a cookie sheet covered in foil or whatever you have that has big and flat and can go in the oven.

Put the pan in the oven about 6 inches from the broiler and burn the crap out of the peppers, it takes about 5-10 minutes. You HAVE to watch it the whole time! You don't want to overburn them.

Next, toss the greens into a baking dish with the rest of the olive oil and about half the salt and then throw in the peppers and put it back in the oven.

Turn the heat down to 425° and bake for 15 minutes. Pull this out and put it on the stove and be careful, it's hot. Duh.

Crack all 4 eggs on top of the veggie mess with the rest of the salt and then stick it back in the oven for 5-10 minutes. When the eggs only giggle a little bit on top they are done!

Pull it out of the oven, put a serving spoon in and let people enjoy the fruits of your labor. I warm musically fans no verification or survey up the tortillas and scoop the mix on to one and then sprinkle with quest fresco and squeeze on the lemon. You can also make it into a breakfast sandwich or just eat it out of the pan.