Nectarines, peaches, and strawberries. Oh, my.
My favorite season is summer. I am aware that I say this about every season (Fall, don't you worry, you'll get your post in good time). I am also aware that I live in Texas and it's literally as hot as Hades. I am painfully pale (thank you, German ancestors) and look like a lobster for most of the summer, but I can't help it, I love being out in the sunshine! There are two amazing reasons why summer is the best: tomatoes and peaches.
I'm not talking about the grocery store produce, which is very serviceable and fantastic in their own way. No, I'm talking about sun ripening, summer smelling, juice-dripping-down-your-cheeks produce from an actual farm near you. I can and will soliloquize about tomatoes all summer long, but today is a day for stone fruits like peaches. And nectarines. And plums. Any fruit that has flesh or pulp enclosing a stone is called a stone fruit.  The summertime obsession is taking over and I can smell the fresh, ripe, peachy scent in my dreams… I'm becoming a little creepy now. So back to my point: go and find a farm or a farmer's market and pick up a couple (dozen) of the beauties that are in season now. I will show you how to make Summer Stone Fruit Sangria
This summer stone fruit sangria recipe today is not so much by measurements, but by parts: one part amaretto, three parts fruit, etc. The reasoning behind this is because sangria is made to be shared (or not. Whatever. I don't judge) and meant to be improvised. My lovely friend Jessica lived in Spain for a bit and she always tells me, whenever I start talking about sangria, over in Spain everyone drinks it and it is the only slightly classier version of American trashcan punch. Blows my mind, every time. Over here, I don't know about you guys, but sangria was a fancy-schmancy cocktail-ish concoction. Her story made me reevaluate my stance on not making this seemingly stuffy wine cocktail.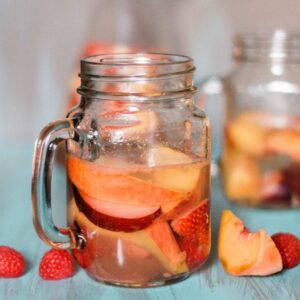 Summer Stone Sangria
Ingredients
1

Part Amaretto Brandy or triple sec is more traditional and is delicious, but I like what I like

3

Parts Sliced Peaches, Nectarines and/or Plums

1

Parts Sliced Strawberries or whole raspberries

1

Lemon Sliced

6

Parts White wine Sauv blanc or light Pinot Grigio work well, nothing too heavy like Chardonnay

2

Parts Sparkling water or clear lemon-lime soda This makes it a little sweeter, sometimes I use something fancy like blood orange soda or sparkling pink lemonade.
Instructions
Infuse Fruit
Put all the of the fruit and amaretto into a large container with a lid, preferably a tall skinny one like a mason jar. Soak overnight. Or however long until the people show up at your house, clamoring for booze.
Mix Together
Pour the fruit mix into your largest pitcher and add the wine. Add a little ice (if you want it super cold, I usually omit the ice) to cups and pour out the sangria then top with sparkly water or soda. Make sure to get a little fruit in each glass because a) it looks pretty and b) the fruit is pretty boozy from soaking overnight and will mess you up.
Recipe Notes
You can add in jalapeño, herbs like mint or basil or whole cinnamon sticks to fancy it up. Seriously the fruit is strong juju so be careful if you are going to drive. Don't be that guy.
Please try this recipe out and mix it up! You and your friends and family will thank me. It's the perfect addition to any brunch, pool party, girls night, boys' night, Tuesday, etc. Don't worry about the overnight soak if you have a time crunch. This is one drink you can alter every ingredient on the list, and it would still be fabulous. Have fun