Recipe inspired by "Wyrd Sisters" by Terry Pratchett
"The words won't be forgotten, thought Granny. They've got a power to them. They're damn good words, as words go. There was yet another rattle of thunder, which ended with the kind of crash made, for example, by a sheet of tin escaping from someone's hands and hitting the wall."
"In the world outside the stage, the heat pressed down like a pillow, squeezing the very life out of the air. Granny saw a footman bend down to the duke's ear. No, he won't stop the play. Of course, he won't. He wants it to run its course. The duke must have felt the heat of her gaze on the back of his neck. He turned, focused on her, and gave her a strange little smile. Then he nudged his wife. They both laughed."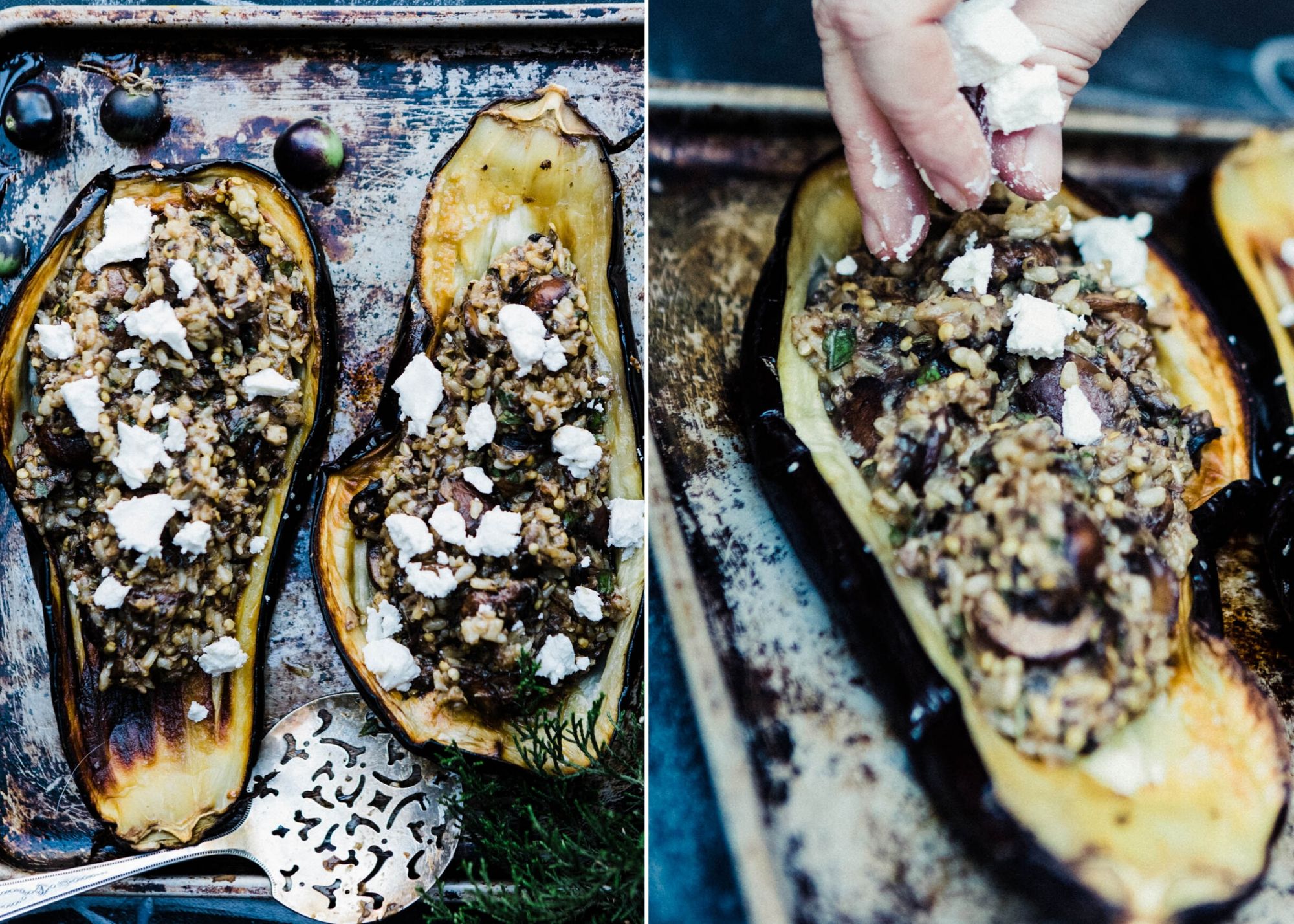 "Granny Weatherwax was often angry. She considered it one of her strong points. Genuine anger was one of the world's great creative forces. But you had to learn how to control it. That didn't mean you let it trickle away. It meant you dammed it, carefully, let it develop a working head, let it drown whole valleys of the mind and then, just when the whole structure was about to collapse, opened a tiny pipeline at the base and let the iron-hard stream of wrath power the turbines of revenge."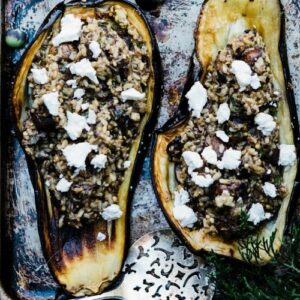 Stuffed Eggplant
Ingredients
1

large eggplant

4

T

olive oil

4

t

kosher salt

1

cup

uncooked orzo or cooked brown rice

32

oz

cremini mushrooms

1

t

truffle oil

herbs

2

oz

goat cheese
Instructions
Preheat the oven to 400°F.

Cut the eggplant in half from the top to the bottom and place the eggplant cut side up on a sheet pan lined with parchment paper and rub 2 T of the olive oil all over both sides then sprinkle with 1 t of the salt.

Roast for 35-40 minutes until the flesh is soft an pierces easily with a knife (you can also hit it with the broiler for about 2 minutes at the end if you want a little char).

While the eggplant roasts, in a medium saucepan on high, bring 1 quart of water and 2 t of salt to a boil (or if using the cooked brown rice, heat in the microwave until hot).

Cook the orzo in the water for 12-14 minutes until the pasta is al dente. the drain and place in a large bowl (skip this step if using rice).

Heat a large skillet on medium high and saute the mushrooms in 1 T of the olive oil and 1 t of salt for 5-10 minutes then add to the orzo/rice in the bowl.

Once the eggplant has finished roasting, scoop out the flesh to make a trough of about 2 inches by 4 inches and add to the orzo/rice bowl.

Add the truffle oil and herbs to the bowl, mix thoroughly and mound back into the eggplant dugouts.

Place back in the oven for 5-10 minutes to heath through. When they come out, top with crumbled goat cheese and serve.