Recipe inspired by the book "The Remembering Day" by Pat Mora
"Bella went to her favorite rock and looked up at the full moon. She looked up at the big tree and there, sitting high on a bough, was Mamá Alma, smiling down at her."
Elderly Mamá Alma was in the corner of their small thatched hut, quietly humming to herself a tune her mother and grandmother had sang while cooking. Bella snuck in and watched Mamá Alma slowly prepare the vegetables they collected in the garden that morning. The peppers, onions, and carrots were all alive in the ground yesterday. Bella tried to sneak up behind her grandmother but Mamá Alma was too quick! She lead Bella over to the earthen oven where the vegetables would roast. Mamá had cleaned the peppers and carrots and now was stoking the fire under the oven. She showed Bella how to slide the produce in next to the bread that was baking as well. Mamá Alma told Bella to remember how to roast the vegetables because one day she would be doing it herself. "When I have gone to be with your Papá, you can prepare this produce and think of me", said the patient grandmother.
The next year, Bella would make the spicy, creamy carrot bell pepper soup recipe her grandmother loved on Remembering Day. She laid it with the pan de muertos, tamales, and rice pudding, her grandmother's favorite things to eat. The whole family remembered the wise and sweet old woman, but Bella felt Mamá Alma right next to her and smiled.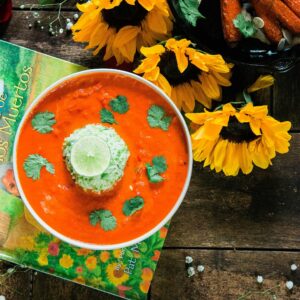 Carrot Bell Soup
Total Time
1
hour
50
minutes
Ingredients
Soup
2

c

roasted carrots

2

c

roasted red pepper

1

tsp

granulated garlic

½

tsp

chili powder

1

tsp

honey

1

tsp

kosher salt

½

tsp

ground black pepper

2

c

chicken broth

1

tbsp

olive oil

extra virgin
Crema
1

c

heavy cream

1

tbsp

buttermilk

¼

tsp

kosher salt
Instructions
Soup
Roast carrots and peppers with a little oil and salt in a 400℉ oven for 45-55 minutes, until soft, when poked with a knife.

In a medium saucepan, heat the olive oil on medium heat for 2 minutes then add the granulated garlic & chili powder and stir for about a minute to bloom the spices.

Add the honey salt, pepper, broth, carrots and peppers and bring to a simmer.

Remove from heat and blend with a stick blender or stand blender. Top with crema.

Crema
Heat heavy cream in microwave safe jar for one minute then add the buttermilk.

Cover lightly and allow to sit on the counter for 24 hours then stir in salt and refrigerate.