Recipe inspired by the book "Harry Potter and the Deathly Hallows" by J.K. Rowling
"Before we begin our banquet, I would like to say a few words. And here they are: Nitwit! Blubber! Oddment! Tweak! Thank you."

"Is he — a bit mad?"

"Mad? He's a genius! Best wizard in the world! But he is a bit mad, yes. Potatoes, Harry?"
Harry slipped away from the Franken-table full of food and adopted family. The friendly chaos that forever surrounded the Burrow made it difficult to plot for the upcoming departure. He took a few turns around the garden, keeping well inside the protective wards cast around the home, worrying about the times ahead. How would he, a now 17-year-old boy, find and destroy the Horcruxes and ultimately Voldemort? Harry stood still for a moment. Then he smiled. He remembered an odd, freckly, redhead who had been beside him in so many adventures: mountain trolls in bathrooms, sliding down slimy tunnels in search of Ginny and the Basilisk, trying (and failing) at figuring out girls. The mess that was about to come was incredibly difficult and probably deadly, but he was 17 now, an adult, and he could make his own decisions. But could he make decisions for his best friend?
Ron snuck up behind the pacing Harry, "You can't do it alone, mate." Ron grabbed Harry and hauled him back to the celebration shoving a humungous (and juicily dripping) turkey leg in his hand. Suddenly Harry's 17-year-old anatomy took over. He was ravenous! The herbed leg was devoured in a moment and strangely the world looked a little brighter.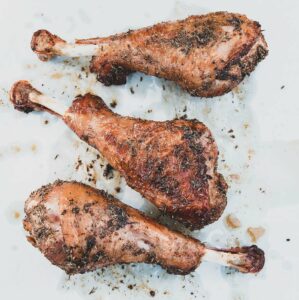 Herb Roasted Turkey Legs
Cook Time
1
hour
20
minutes
Total Time
3
hours
20
minutes
Ingredients
3

turkey legs

3

c

water

¼

c

brown sugar

¼

c

kosher salt

2

c

ice

1

tbsp

olive oil

½

tsp

savory

1

tsp

cracked peppercorns

½

tsp

celery salt

½

tsp

thyme
Instructions
Bring the 3 cups of water to a simmer in a medium pot.

Turn the burner off and mix in brown sugar and salt until fully dissolved.

Once dissolved, mix in ice and allow to melt then put the brine and turkey legs in a gallon zip top bag.

Brine for at least 2 hours, up to 8.

Drain turkey legs and pat dry with paper towels.

Preheat oven to 400 ℉ with an empty half sheet pan inside.

Mix oil, savory, peppercorns, celery salt, and thyme in a clean gallon zip top bag then add turkey legs and coat fully with herb mixture.

Pour out herbed turkey legs onto heated half sheet pan and roast for approximately 1- 1 1/2 hours, rotating every 10-15 minutes until 175 ℉ internal temperature.

Allow to rest for 20 minutes then tuck in!