So we didn't start LTBI just to taco bout food.
Well, okay. Maybe a little bit. We also started it because it is a necessary human condition to want to make a difference, and this is our small way of trying to contribute. One of the main points I'd like to get across is inspiration makes us human, and everyone should seek out one thing that inspires us every day. Today I was inspired by:
Strange marshmallow clouds outside.
2. My pup Millie.
3. Summertime tomatoes from the garden.
I have talked about it before, and I'll talk about it again. I love summer, and one of the biggest reasons is tomatoes. Those red, juicy grenades that taste of sunshine. Sometimes, however, they don't make it to the ripe and red stage (for me, it's usually birds or bugs). This recipe will make those green tomatoes shine like the jewels they are.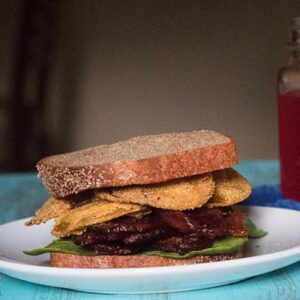 Fried Green Tomato BLT
Ingredients
1

Egg

½

Cup

Buttermilk

2

Medium Green Tomatoes Sliced

½

Cup

Cornmeal

½

Cup

All-Purpose Flour

1

tsp

Your favorite seasoning salt (Tony Chachere's or some such).

Vegetable Oil Enough vegetable oil to fill your cast iron pan about ¼ inch
Sandwich
6

slices

cooked bacon I can tell you how I do it if you want. Baking sheet, 400' oven, 12 minutes

1

cup

Arugula Or spinach or parsley or whatever leafy thing you have lying around

4 ½

inch slices Whole wheat Bread Lightly toasted, hearty whole wheat bread. NO sandwich bread. This SOB will rip right through it.

1

tsp

Mayonaisse to taste
Instructions
Whisk the egg and buttermilk together in a bowl and set aside. *If you are wondering what to do with the rest of the container of buttermilk, make pancakes tomorrow! Or biscuits. Or a really rad salad dressing. Remind me to give you guys these recipes later, or I'll forget.

Put ¼ flour in a shallow pan with half the seasoning salt. In another shallow pan mix the cornmeal and the rest of the flour. Yes, there will be a ton of dishes. It's worth it.

Dip the sliced tomatoes in the flour/salt, then egg/milk. then flour/cornmeal. Drop the tomatoes in carefully, one at a time when the oil gets to be 350' (shimmery but not smokey) in one layer. Cook for 2-3 minutes per side, then grab out with your tongs and let drain and cool down for a minute.

Sprinkle some more seasoning salt to taste. It will probably take you 2 or 3 batches to finish all of them. Build the sandwich.
These strange and beautiful things elate me into thinking that making a difference in the world could be more natural than it sounds. All this malarkey brings me to my point, I love being inspired and beautiful, delicious food is what does it for me a good bit of the time. So this nugget of a Fried Green Tomato BLT sandwich recipe came out of some inspirational mimosas at Kerbey Lane Cafe. I hope it inspires you.