Hercule Poirot le Déjeuner – French Style Pork Chops
"There was only one thing about his own appearance which really pleased Hercule Poirot, and that was the profusion of his moustaches, and the way they responded to grooming and treatment and trimming. They were magnificent. He knew of nobody else who had any moustache half as good."
Hercule Poirot is a fussy man. A small, continually primping, mustachioed gentleman who uses his "little grey cells" to solve unsolvable mysteries.  By the time we meet him, he already has a immaculate reputation for mental gymnastics. All over the continent, the mighty brain of this tiny man is celebrated. He is also slightly unnerving to some. A man of impeccable taste in clothes, mustaches, and dining, Poirot takes joy in the finer things.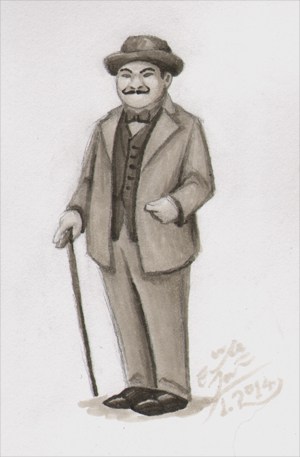 He is also the brainchild of Agatha Christie, the best-selling author of all time (except the Bible and Shakespeare). The enigmatic Dame Agatha Christie was no stranger to mystery in her own life and in her books, but the real magic she created was in her characters. This infamous woman dreamed up a man like no other, who used his brain instead of brawn to awe and intrigue the whole world.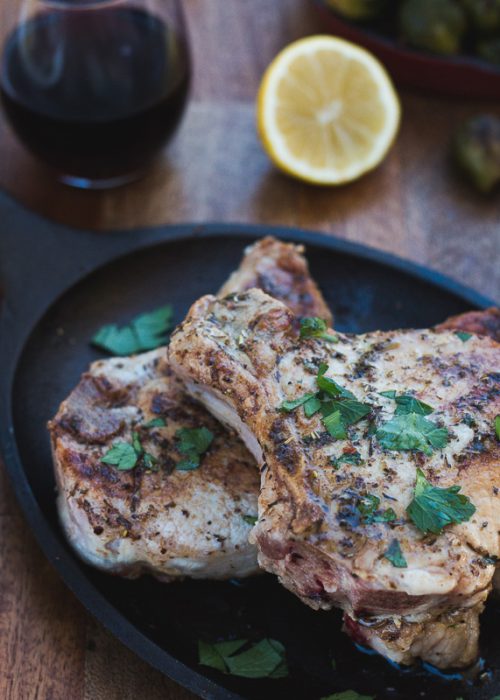 A lunch in Brussels, Belgium with a small egg-shaped detective does not disappoint the eyes or the tongue. A full menu has been laid in front of him, including desert with digestif. Share a meal with one of literatures most engaging characters: Hercule Poirot. Le déjeuner (lunch) is served, starting with a luscious & juicy pork chop.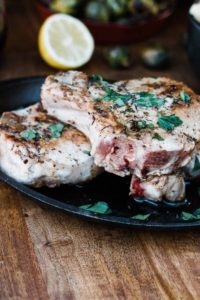 Ingredients
2 bone-in pork chops, 1 inch thick
1½ T butter room temperature
1 T herbes de provence
1 t fresh ground pepper
1 lemon
¾ c salt and
¼ c sugar, dissolved into
2 c water
Instructions
Add pork chop to brine and let chill in the fridge for 2-4 hours allow to rest for 5 minutes before devouring
Pull the chops from the fridge and hour before cooking
Drain, pat dry with paper towel, and allow to come to room temperature
Get your grill or cast iron skillet hot for 30 minutes on medium high heat
Zest lemon
Mix 1 tsp zest, pepper, and herbes de provence into butter and spread onto chops
Add chops to heat, 10-12 minutes per side
allow to rest for 5 minutes, then add tiny bit of butter and a squirt of lemon before devouring