Recipe inspired by the "Wyrd Sisters" by Terry Pratchett
"Destiny was funny stuff, he knew. You couldn't trust it. Often you couldn't even see it. Just when you knew you had it cornered, it turned out to be something else—coincidence, maybe, or providence. You barred the door against it, and it was standing behind you. Then just when you thought you had it nailed down it walked away with the hammer."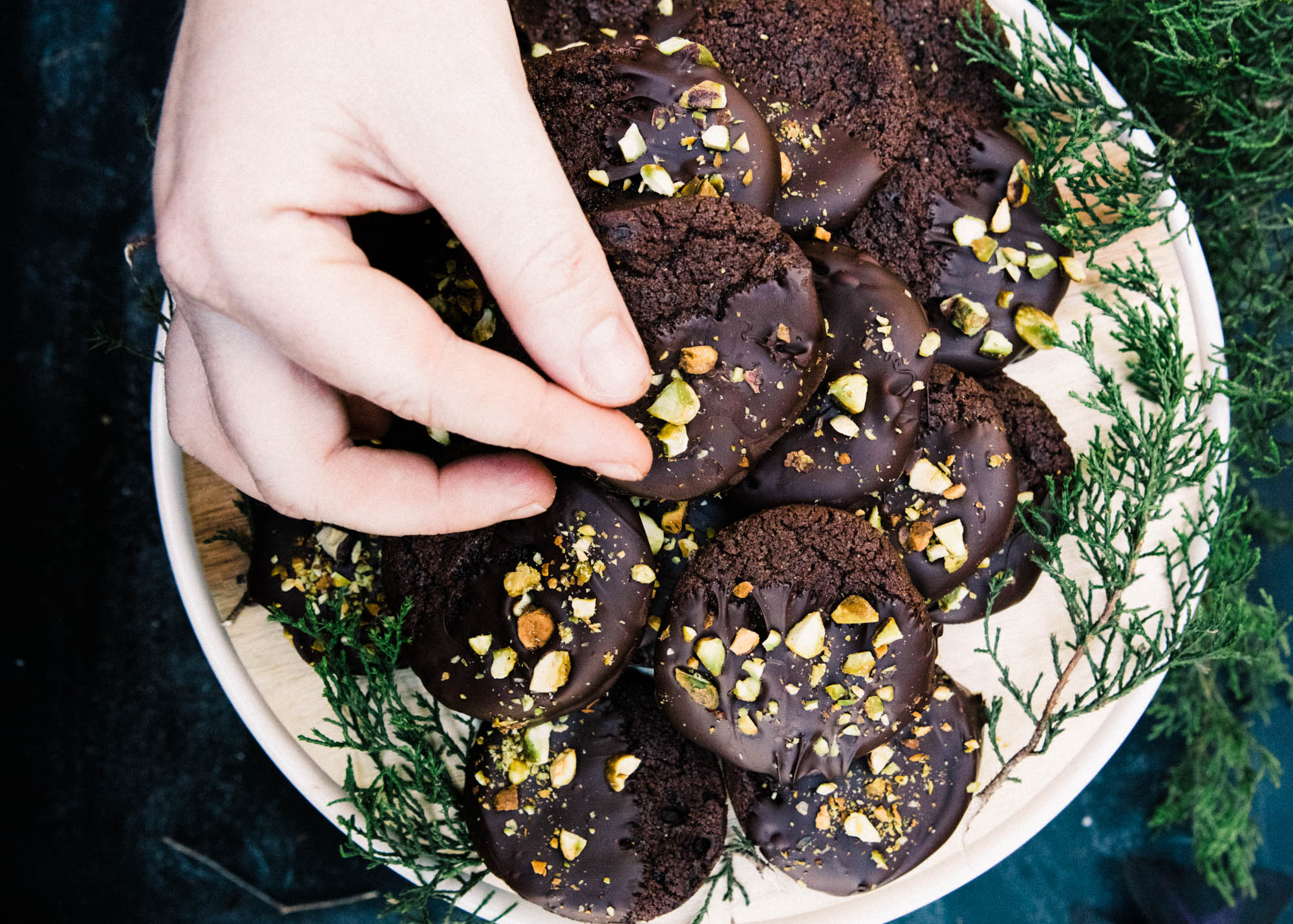 "He used destiny a lot. As a tool for his plays, it was even better than a ghost. There was nothing like a bit of destiny to get the old plot rolling. But it was a mistake to think you could spot the shape of it. And as for thinking it could be controlled…"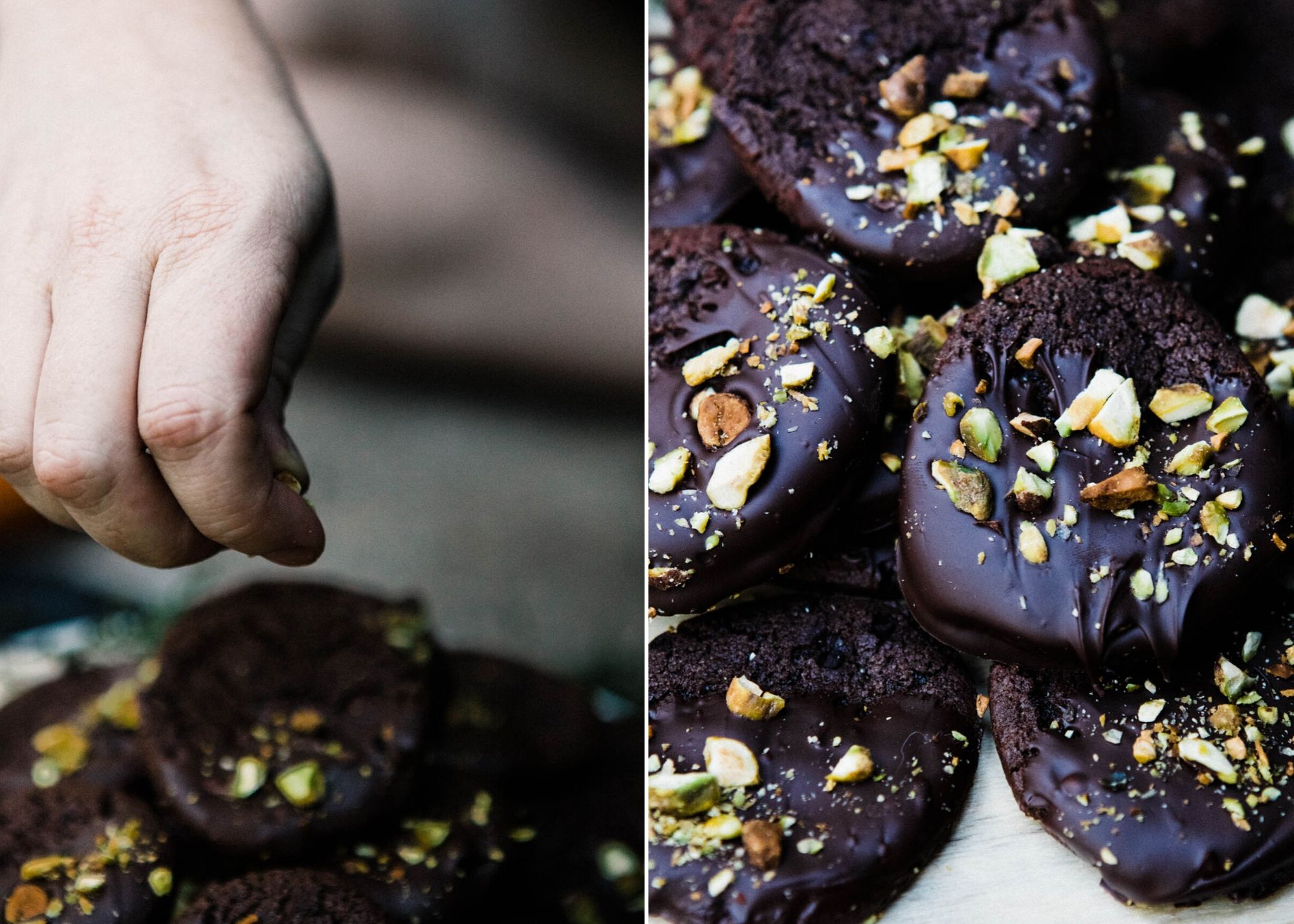 "Granny Weatherwax squinted irritably into Nanny Ogg's crystal ball. It wasn't a particularly good one, being a greenish glass fishing float brought back from forn seaside parts by one of her sons. It distorted everything including, she suspected, the truth."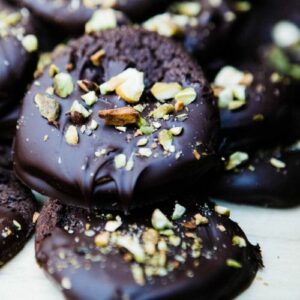 Dark Chocolate Dipped Wafer Cookies
Ingredients
1

cup

all-purpose flour

1/2

cup

100% cocoa powder

1/4

teaspoon

baking soda

1/4

teaspoon

salt

6

T

butter

slightly cooler than room temp

1/2

cup

dark brown sugar

packed

3/4

cup

sugar

1 1/2

teaspoon

vanilla

1/4

cup

half & half

2

cups

dark chocolate chips

1

cup

crushed pistachios
Instructions
In a small bowl, mix the flour, cocoa, soda and salt and set aside.

In a mixer, cream the butter, brown sugar, sugar, vanilla, and half & half on medium for one minute until fluffier and lighter in color.

On the lowest speed, incorporate the flour mixture into the butter mixture in increments until throughly combined.

Put the dough out on to a piece of parchment paper and use the parchment paper to make the dough into 10 inch cylinder, it will be about 1 1/2 inches diameter. Wrap the paper up on both ends to keep the ends from drying out.

Chill in the refrigerator for at least an hour or up to a week.

Pre heat the oven to 350°F.

Unroll the cookie dough and cut the cookies into 1/4 inch rounds off the ends and place at least an inch apart from each other on a cookie sheet lined with parchment paper.

Bake the cookies for 10-12 minutes, they will puff slightly and crack a bit. Pull the parchment and cookies onto a cooling rack to cool for 15 minutes.

While the cookies cool, melt the chocolate chips in a double boiler until they melt and reach between 88°F to 91°Take the chocolate off the heat, but keep the water in the double boiler hot in case the chocolate gets to cool, but don't ever heat over 91°F.

Prep several sheet trays with parchment paper and dip the cooled cookies half way into the dark chocolate an allow to drip most of the chocolate off then set on the sheet pan. Do 5 or 6 then drizzle crushed pistachios on the chocolate end.

Refrigerate for an hour or cool on the counter for 2-3 hours to set the chocolate.
Recipe Notes
https://www.wikihow.com/Make-a-Double-Boiler-(Bain-Marie)