The prince had spread out near him his purchases, carved boxes, and knick-knacks, paper-knives of all sorts, of which he bought a heap at every watering-place, and bestowed them upon everyone, including Lieschen, the servant girl, and the landlord, with whom he jested in his comically bad German, assuring him that it was not the water had cured Kitty, but his splendid cookery, especially his plum soup.

-Anna Karenina by Leo Tolstoy
We hope you enjoy this classic traditional Cold Plum Soup. This chilled soup was and is still very popular in Russia. The ginger has a soft kick and partners perfectly with the sweet taste of honey and plums.
Cold Plum Soup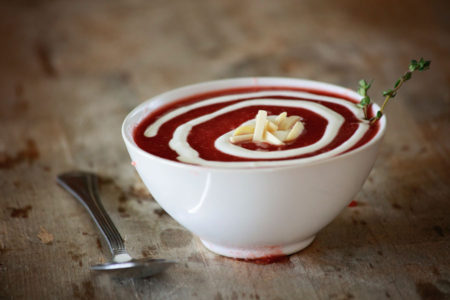 Print This
Ingredients
4 Plums, pitted and cut into quarters

1 1/2 c of unsweetened apple cider

2 T honey

1 fresh thyme sprig

1/2 inch of thinly sliced ginger

1/4 t ground nutmug

1/4 t allspice

1/2 t fresh lemon juice

4 T sour cream

1 T slivered almonds, toasted
Instructions
1. In a medium sauce pan on medium heat, combine
plums
, apple cider, honey, thyme, ginger, nutmeg, allspice and lemon juice.
2. Simmer for 15 minutes then fish out thyme sprig and add the rest of the mix to blender.
3.  Blend for 2 minutes or until smooth and slightly aerated.
4. Store in glass bowl or container and
chill
for at least 2 hours in the refrigerator.
5. Serve with a dollop of sour cream and slivered almonds sprinkled on top.