Recipe inspired by the book "Anna Karenina" by Leo Tolstoy
"The study was slowly lit up as the candle was brought in. The familiar details came out: the stag's horns, the bookshelves, the looking-glass, the stove with its ventilator, which had long wanted mending, his father's sofa, a large table, on the table an open book, a broken ash-tray, a manuscript-book with his handwriting. As he saw all this, there came over him for an instant a doubt of the possibility of arranging this new life, of which he had been dreaming on the road. All these traces of his life seemed to clutch him, and to say to him: 'No, you're not going to get away from us, and you're not going to be different, but you're going to be the same as you've always been; with doubts, everlasting dissatisfaction with yourself, vain efforts to amend, and falls, and everlasting expectations, of a happiness which you won't get, and which isn't possible for you."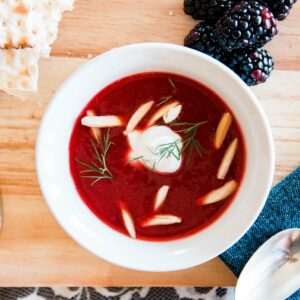 Cold Plum Soup
Ingredients
4

plums

cut into quarters

1½

cup

unsweetened apple cider

2

tbsp

honey

1

fresh thyme sprig

½

inch

thinly sliced ginger

¼

tsp

all spice

½

tsp

fresh lemon juice

4

tbsp

sour cream

1

tbsp

slivered almonds
Instructions
In a medium sauce pan on medium heat, combine plums, apple cider, honey, thyme, ginger, nutmeg, allspice and lemon juice.

Simmer for 15 minutes then fish out thyme sprig and add the rest of the mix to blender.

Blend for 2 minutes or until smooth and slightly aerated.


Store in glass bowl or container and chill for at least 2 hours in the refrigerator.

Serve with a dollop of sour cream and slivered almonds sprinkled on top.