Recipe inspired by the book "Pippi Longstocking" by Astrid Lingren
"Out of doors the sun shone in a clear blue sky. It was one of those radiant September days that make you feel like walking in the woods. Pippi had an idea.
"Let's take Mr. Nilsson and go on a little picnic."
"Oh, yes, let's," cried Tommy and Annika.
"Run home and ask your mother, then." said Pippi, "and I'll be getting the picnic basket ready.
 Tommy and Annika thought that was a good suggestion. They rushed home and were back again almost immediately, but Pippi was already waiting by the gate with Mr. Nilsson on her shoulder, a walking stick in one hand, and a big basket in the other.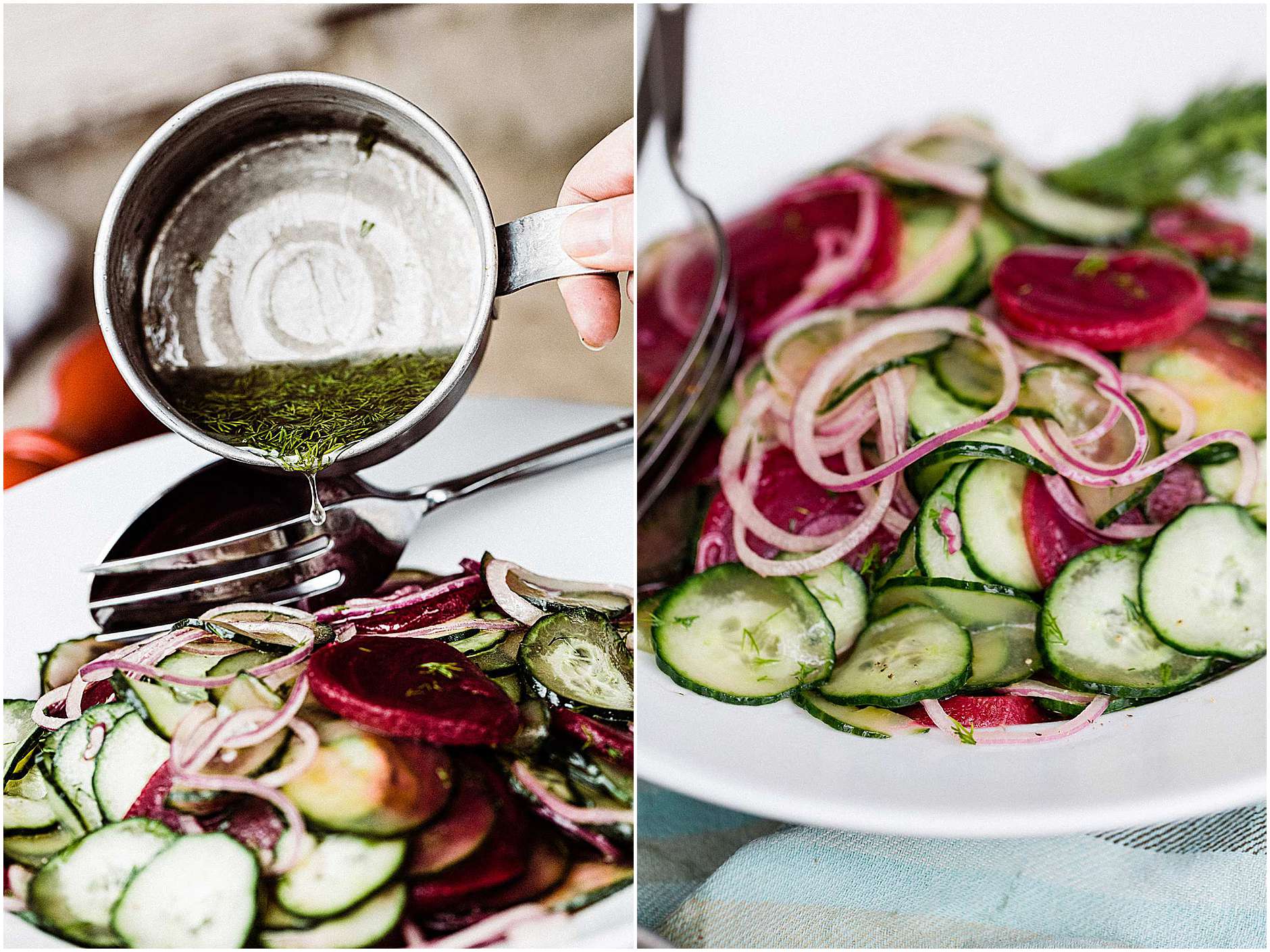 The children walked along the road a little way and then turned into a pasture where a pleasant path wound in and out among the thickets of birch and hazel. Presently they came to a gate on the other side of which was an even more beautiful pasture, but right in front of the gate stood a cow who looked as if nothing would persuade her to move. Annika yelled at her, and Tommy bravely went up and tried to push her away, but she just stood there staring at the children with her big cow eyes. To put an end to the matter, Pippi set down her basket and lifted the cow out of the way. The cow, looking very silly, lumbered off into the hazel bushes. "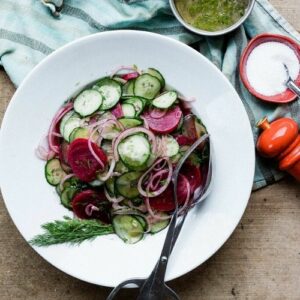 Beet & Cucumber Salad
Ingredients
3

T

fresh dill

chopped

¼

c

tarragon or white wine vinegar

¼

c

olive oil

½

t

kosher salt

1

medium seedless cucumber

1

medium red onion

1 15

oz

can sliced beets

drained
Instructions
In a small mixing bowl, whisk together 2 T dill, vinegar, oil, and salt and set aside.

Using a sharp knife, cut the ends off your cucumber and onion and the paper on the outside of the onion and discard.

Then with a mandoline on the thinnest setting (preferably) or a sharp knife, slice the cucumber and onion to ⅛ inch slices.

In a large bowl, combine the sliced cucumbers, onions, beets and dressing and refrigerate for at least an hour.

Serve chilled with more dill sprinkled on top.
Recipe Notes
You may need to add a bit more salt, but taste first. Some of the canned beets are saltier than others. You can also add crème fraiche or mayo into the dressing or green apple instead cucumber.