Recipe inspired by the book "Still I Rise" by Maya Angelou
Pretty women wonder where my secret lies.

I'm not cute or built to suit a fashion model's size   

But when I start to tell them,

They think I'm telling lies.

I say,

It's in the reach of my arms,

The span of my hips,   

The stride of my step,   

The curl of my lips.   

I'm a woman

Phenomenally.

Phenomenal woman,   

That's me.

 

I walk into a room

Just as cool as you please,   

And to a man,

The fellows stand or

Fall down on their knees.   

Then they swarm around me,

A hive of honey bees.   

I say,

It's the fire in my eyes,   

And the flash of my teeth,   

The swing in my waist,   

And the joy in my feet.   

I'm a woman

Phenomenally.

 

Phenomenal woman,

That's me.

 

Men themselves have wondered   

What they see in me.

They try so much

But they can't touch

My inner mystery.

When I try to show them,   

They say they still can't see.   

I say,

It's in the arch of my back,   

The sun of my smile,

The ride of my breasts,

The grace of my style.

I'm a woman

Phenomenally.

Phenomenal woman,

That's me.

 

Now you understand

Just why my head's not bowed.   

I don't shout or jump about

Or have to talk real loud.   

When you see me passing,

It ought to make you proud.

I say,

It's in the click of my heels,   

The bend of my hair,   

the palm of my hand,   

The need for my care.   

'Cause I'm a woman

Phenomenally.

Phenomenal woman,

That's me.

– Maya Angelou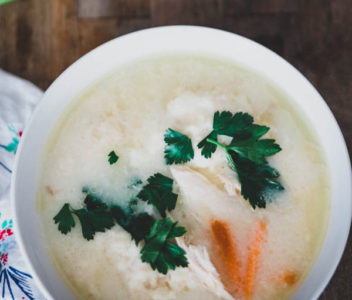 Classic Chicken & Dumpling Soup
Total Time
2
hours
30
minutes
Ingredients
2

quarts

water

1

small

whole chicken

giblets removed and quartered

2 ½

tsp

salt

½

lb

carrots

sliced

2

cups

biscuit mix

see below

½

tsp

granulated garlic

⅔

cups

milk

1

tbsp

parsley

roughly chopped
Biscuit Mix
4

cups

All Purpose Flour

1

cup

whole wheat flour

1

cup

nonfat dry milk powder or buttermilk powder

¼

cup

baking powder

½

tbsp

salt

¼

tbsp

cream of tartar

1 ¼

cups

vegetable shortening
Instructions
Bring the water, whole chicken, and salt to a low boil in a large stock pot.

Back heat down to medium and allow to simmer for 2-3 hours (you can go longer if you want).


Fish out the chicken quarters and skim any large pieces of scum from the broth. Allow the chicken to cool to room temperature and shred the meat.


Add the carrots to the broth and allow to simmer for 10-15 minutes.


In a medium bowl, mix the biscuit mix, granulated garlic and milk into a loose dough.


Use 2 spoons to ball up the biscuit dumplings into 1 1/2 inch balls and add to the broth.


Allow dumplings to gently simmer for 4 minutes then flip over and allow to cook for another 4-5 minutes.


Add the shredded chicken and parsley and serve.
Biscuit Mix Instructions
In a large bowl, sift together the dry ingredients. With pastry blender (or your hands) cut in shortening until mixture resembles cornmeal in texture. Store in airtight container.