Recipe inspired by the book "Like Water for Chocolate" by Laura Esquivel
"Tita thought of the many times she had germinated kernels or seeds of rice, beans, or alfalfa, without giving any thought to how it felt for them to grow and change form so radically. Now she admired the way they opened their skin and allowed the water to penetrate them fully, until they were split asunder to make way for new life. She imagined the pride they felt as the tip of the first root emerged from inside of them, the humility with which they accepted the loss of their previous form, the bravery with which they showed the world their new leaves."
This afternoon a very familial, warm feeling crept throughout Tita's whole being while she was stirring the colorful limas. Welling up inside of her was the bright yellow-green exuberance of a new life growing within. Several nights before,  her beloved Pedro had come to her as if in a dream and they had spent one glorious evening entwined with each other. Since then she felt as if the whole world was bursting with new life, into this springtime where the quail were their hatching their speckled eggs and the foals trying out their newfound limbs.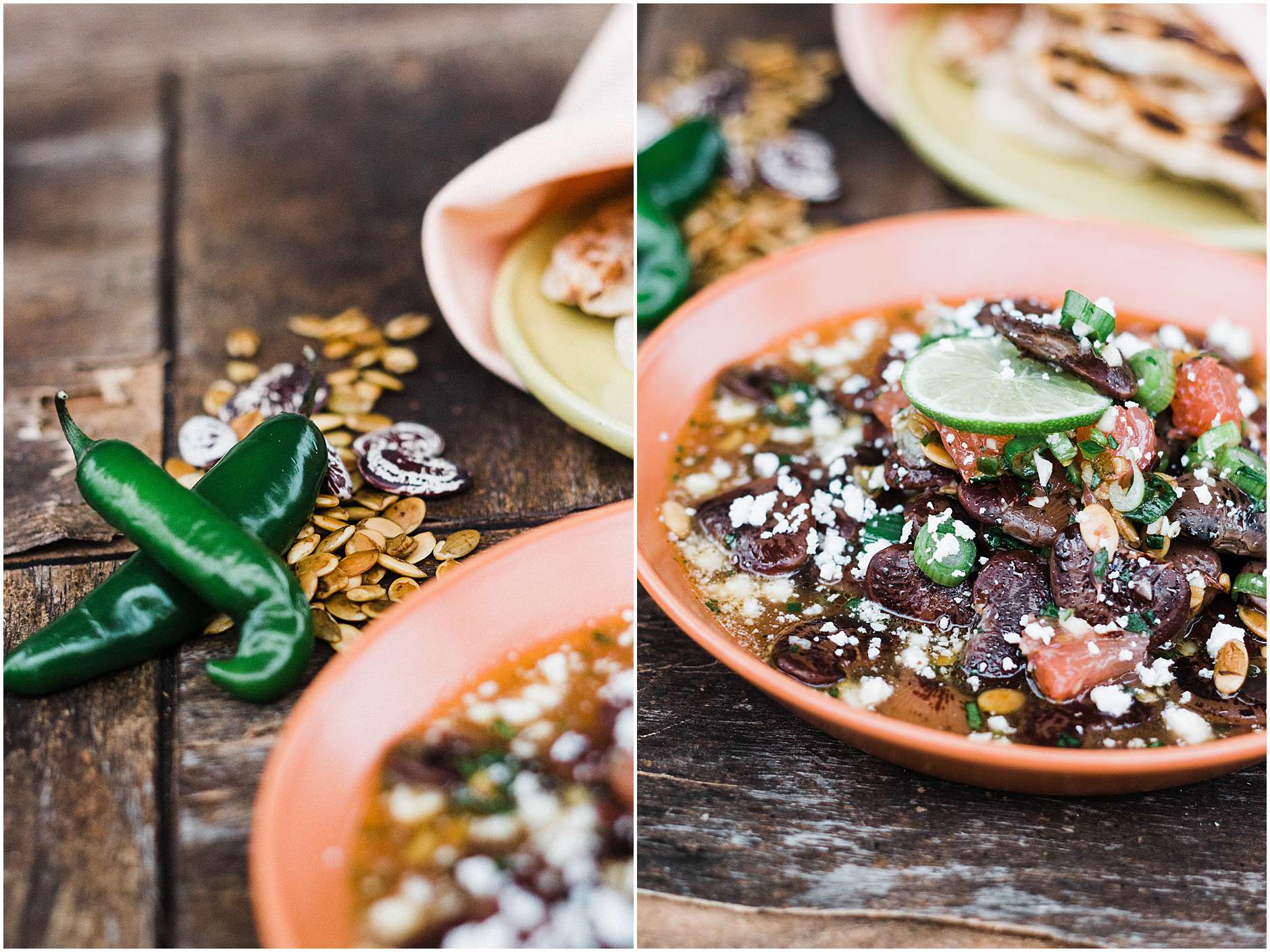 As Tita mixed the sweet and tangy grapefruit juice and oil together, she absentmindedly felt her hand caressing her belly. She could not help but ponder on the connection between the hearth and kitchen and why she always felt so comfortable in that tile encompassed heart of the home. Maybe one day she would be sharing her prowess in the kitchen with a daughter of her own, one that would never be chained to taking care of Tita as her own mother had forced upon her. With one last mix of the spoon and one more pat of the belly, Tita walked out to bring her family the splendid Christmas lima beans with a small smile of contentment on her lovely face.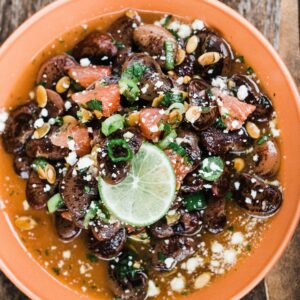 Christmas Lima Bean Salad
Ingredients
2

cups

Christmas Lima Beans

rinsed and soaked in water for at least 8 hours

1

tbsp

vegetable oil or bacon fat

1 ½

cups

water

1 ½

cups

broth

2

tsp

kosher salt

2

garlic cloves

smashed

1

small onion

chopped

1

tsp

cumin

2

bay leaves

2

tbsp

fresh squeezed grapefruit juice

(preferably Ruby Red)

2

tbsp

extra virgin olive oil

2

tsp

agave nectar

1

tsp

kosher salt

1

tsp

fresh ground pepper

1

thai pepper or jalapeño

sliced as thin as possible

roughly chopped cilantro

crumbled queso fresco, or toasted pepitas to garnish
Instructions
Bring a large Dutch oven to medium heat and add the fat.

Sauté onion, garlic, and salt 1-2 minutes until onions are slightly translucent, stirring frequently.

Add beans, water, broth, cumin, and bay leaves to pot. Turn heat to medium-low and cook for 1-½ hours until tender.

In the meantime, whisk together grapefruit juice, agave, salt pepper.

Slowly pour in olive oil into grapefruit mixture while continuously whisking, then refrigerate.

Once the beans are tender, drain the beans and discard the onion and bay leaves.

Pull the vinaigrette from the fridge and re-whisk for a moment to recombine the ingredients, then toss with the sliced pepper and beans.

Garnish with roughly chopped cilantro, crumbled queso fresco, or toasted pepitas.