Recipe inspired by the book "Farenheit 451" by Ray Bradbury
"Stuff your eyes with wonder, he said, live as if you'd drop dead in ten seconds. See the world. It's more fantastic than any dream made or paid for in factories."
Guy Montag spoke with Clarisse McClellan outside on the sidewalk. Speaking to another human face to face in natural light felt foreign to him. They spoke about nothing important and still, he couldn't shake the feeling that they were doing something insecure. Clarisse noticed the look in the eye and smiled, "What are you afraid of?" Guy turned swiftly and stared at her. "I'm sorry. My Uncle is forever telling me to be careful to not be TOO particular," she sing-songed as she turned to walk home.
Guy started to walk home as well and looked back after Clarisse. She was so vibrant in Guy's life of ashes. Suddenly Guy needed to know more about this girl, this family. Do they really spend time talking to each other, instead of the picture walls? "Wait a sec", Guy called. He jogged over and asked Clarisse if her family had room for a fireman at the dinner table tonight. She exclaimed they would love a chance to pick his brain and the two walked the blocks to Clarisse's family's home. The night proceeded after Clarisse had convinced her Uncle that the fireman was indeed a friend of hers, and not there for any nefarious reason.
Clarisse's mother pulled dishes from the oven; smokey baked sweet potatoes, sticky roasted black grapes, and a glorious coffee rubbed pork tenderloin. The smells alone confused and amazed Guy, never mind the warmth which the family interacted. It was a warm, insulated world that Guy had never experienced in his cool, mechanical life. He decided to dive a little deeper.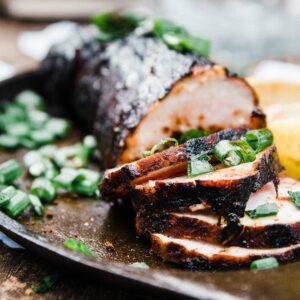 Coffee Rubbed Pork Tenderloin
Total Time
1
hour
5
minutes
Ingredients
1

pork tenderloin

approximately 1 lb

2

tsp

kosher salt

½

tsp

smoked paprika

½

tsp

cayenne powder

½

tsp

cracked black pepper

½

tsp

brown sugar

3

tbsp

instant expresso powder

2

tsp

olive oil
Instructions
Combine salt, paprika, cayenne, pepper, brown sugar in a small bowl then rub all over tenderloin and allow to rest in a plastic bag in the fridge for between 2 and 8 hours.

Preheat oven to 350℉ and have medium cast iron (or other heavy metal) skillet on medium for 5 minutes.

Scatter the espresso powder into a long, flat plate or shallow container with a lip.

Pull the tenderloin from the plastic and pat down with paper towels to dry. Then roll in the espresso powder until covered.

Heat the oil in the pan for a minute and add the pork. Cook the pork in the cast iron, rolling the tenderloin a quarter turn every 5 minutes.

After 20 minutes, transfer the whole pan with pork in it to the oven and cook another 15-20 minutes until the internal temperature is 150℉.

Allow it to rest for 10-15 minutes and then slice in half inch slices.